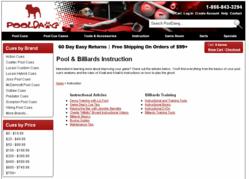 Lafayette, CO (PRWEB) April 04, 2012
PoolDawg, a leading online retailer of pool cues and billiards supplies has once again expanded their growing library of billiards training articles. In addition to the existing library of instructional articles, PoolDawg is now proud to include training videos from touring pro Charlie "Hillbilly" Bryant.
"We're very excited to have the opportunity to add Charlie Bryant's instructional videos to our training library" said PoolDawg President Michael Feiman. "Charlie has a natural knack for teaching and his monthly videos will give our customers a new way to learn the game of pool that goes beyond the written word".
In addition to Bryant's videos, PoolDawg also has scores of articles from WPBA touring pros Jennifer Barretta and Liz Ford as well as Denver's own Samm Diep. Each article was written exclusively for PoolDawg and is available to PoolDawg's customers by visiting their Pool and Billiards Instruction category. Topics range from the basics of playing 8 ball and 9 ball to advanced aiming techniques and playing strategies.
About PoolDawg.com, Inc
With over 3,000 pool cues, cases, and game room accessories, PoolDawg is the premier destination for pool players of all levels. PoolDawg offers one of the widest selections of cues, cases and accessories on the web and carries billiards products from over forty manufacturers including Scorpion, Cuetec, Lucasi, McDermott, Schon, Joss, Outlaw and Viking and can be found online at http://www.pooldawg.com.