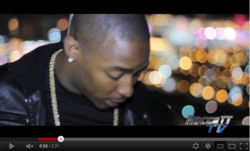 Miami, FL (PRWEB) April 04, 2012
Hip hop artist Roccett recently released the official video for his single "Made Man," produced by DP Beats. Featured on his "By Any Means Necessary" project, the video is presented by Get Your Green Up Ent. and Coast 2 Coast Video Distribution. "Made Man" was shot and edited by Trenton Cotton and directed by Rick Edwards.
Success in the music industry is notoriously difficult. Whether the obstacles are not having the support of a major record label or lack of respect and support from superstar rappers and fans, the road to stardom is far from easy. Many people have fallen into the hands of these hardships. A man who has thrived in these conditions is California rapper Roccett.
Born Jerome Rockett and raised in the streets of East Side Carson, CA, this MC learned about stress and working hard at a young age. The rough surroundings of crime and gangs in Los Angeles molded Roccett into a strong individual and gave him the experience necessary to share the struggle to what many people face. When his first dream of pursuing a basketball career did not materialize, he then discovered his great passion for hip hop. With his eyes clearly on his new goal, Roccett began to build the foundation for his success by performing shows throughout Los Angeles and developing himself into a timeless musician.
Coming from the West Coast, a region that has produced stars like Snoop Dogg, Dr. Dre, NWA and many more, and which is famous for its unique lifestyle, Roccett embodies what many west coast rap fans love. He simultaneously shows his versatility, which makes him liked by many hip hop fans all over the world.
Roccett charisma and strong stage presence combined with his ability to craft stories about a wide range of subjects earned the young rapper the respect of fans and led the industry to take notice. His talent and drive caught the attention of Get Your Green Up Ent a company that has worked with celebrities such as Usher and Tupac. Roccett has produced a considerable buzz and already worked with established stars such as Young Jeezy, Fabolous, Rick Ross, Akon, Trey Songz and many others.
With so many dues paid, Roccett's industry knowledge and groundwork has him making a lasting impression on hip hop. His reputation of being a force on stage has allowed him to perform throughout the U.S. and abroad. Roccett has many critically acclaimed projects under his belt and has released highly acclaimed street albums with DJ Drama, DJ Scream, DJ Skee, DJ Whoo Kid, DJ Kay Slay, and DJ Ill Will. These projects have accumulated over 500,000 album downloads.
"Made Man" is available to view at http://www.youtube.com/watch?v=ijpxydBco14&feature=youtu.be