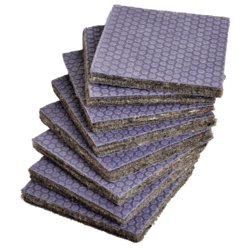 Customers are very impressed at how these Dura-Grip pads stop their furniture from moving and sliding on their floors!
Wilton, CT (PRWEB) April 05, 2012
Rug Pad Corner, the nation's online source for quality rug pads, announces the addition of its newest product, Dura-Grip furniture gripper. Dura-Grip is a furniture floor pad that is meant to prevent furniture from slipping on all floors as well as to protect floors from furniture damage.
"We're very excited about our furniture gripper pad", states Sam of Rug Pad Corner. "So many customers have been asking for a way to stop their furniture from moving on their floor and we finally found the answer." Thousands of customers call Rug Pad Corner for rug pads and more often these days comes the question of whether or not the company carries anything that prevents furniture from moving. After much effort, Rug Pad Corner found a way to manufacture and offer Dura-Grip.
Dura-Grip is made in the USA in the Rug Pad Corner facility. The furniture gripper is available in sets of eight pieces ranging in size from two to eight inches square and round. Unlike other furniture floor pads, Dura-Grip does not stick to furniture or floor and does not need to be nailed. The pad contains a rubber layer on each side with a unique texture. This texture works to grab and hold to all furniture and all floors. And, because it is natural rubber, it does not mark or stain the floor or the furniture. Dura-Grip is a very dense half of an inch thick and performs as one of the best rubber floor protectors to prevent any weight of furniture from denting or scratching the floor.
Rug Pad Corner offers Dura-Grip furniture grippers and floor protectors on a safe and secure web site. Dura-Grip sets start at $18.99 and come with free shipping within the contiguous United States. It is unlikely that Dura-Grip will not stop furniture from moving, yet in any case where this happens, the company will accept returns for a full refund within thirty days of order.