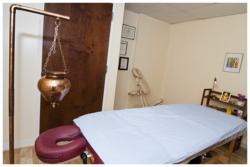 Falls Church VA (PRWEB) April 05, 2012
April marks the one-year anniversary of Apurva Wellness, a natural health spa offering the ancient healing arts of yoga and ayurveda for a natural, wholistic approach to health and beauty. This unique ayurvedic spa opened its doors in April 2011, and has been consistently offering the traditional and natural techniques of these ancient philosophies from India.
The services include beauty and spa treatments, traditional oil massage and oil treatments, yoga, meditation, and lifestyle consulting. The spa also offers partial "panchakarma"—an ancient cleansing and rejuvenation program that can help reverse the negative effects of daily living (such as stress and processed foods). Apurva Wellness uses only 100% natural ingredients, so none of the treatments have secondary or allergic effects. Learn more about the treatments by watching this quick video http://youtu.be/NGvuGYOG6T4
Ayurveda is "the science of life"; it originated in India over 5,000 years ago as a complete lifestyle and health system. It provides many tools for self-discovery and understanding, but most importantly it allows each person to use the power of nature to transform their life. Ayurveda goes beyond physical wellbeing; it also looks to improve the mental and spiritual condition of each individual. The ultimate goal is to empower each person to make the proper decisions regarding a healthy, "whole" lifestyle. By slowly introducing lifestyle changes in our day to day habits, we can transform our body, mind, and soul.
To celebrate the one-year anniversary, Apurva Wellness is offering a complementary facial and herbal steam bath with every abhyanga through May 20, 2012. Call the center to book an appointment.