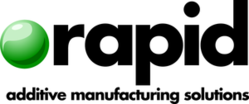 Many businesses choose to debut their products and services at RAPID, and we're excited to introduce a new award to recognize and honor the exhibitor who demonstrates the most innovative use of technology.
DEARBORN, Mich. (PRWEB) April 04, 2012
The Society of Manufacturing Engineers (SME) will honor RAPID 2012 exhibitors with 'Exhibitor Innovation' and 'Best in Show' awards, this May in Atlanta. The exposition, opened to industry professionals and to the public, is expected to draw visitors from around the world.
In celebration of the 20th anniversary of this manufacturing event, an 'Exhibitor Innovation' award will be presented to the RAPID 2012 exhibitor who introduces a product or service with significant technology innovation for the industry that improves business operations and manufacturing. Entries will be judged by members of the SME Rapid Technologies & Additive Manufacturing (RTAM) community. Judges will visit with finalists on the show floor prior to awarding the winning entry. Exhibitors must submit entries online before April 30 for consideration.
"The RAPID exposition is known for unveiling ground-breaking 3D imaging and additive manufacturing technologies to the industry," said SME's 2012 RTAM president David Leigh. "Many businesses choose to debut their products and services at RAPID, and we're excited to introduce a new award to recognize and honor the exhibitor who demonstrates the most innovative use of technology."
In addition to the 'Exhibitor Innovation' award, a "Best in Show' award will be determined by the popular vote of RAPID attendees and is intended to recognize the most interactive, visually appealing and engaging exhibit. Business professionals and students are encouraged to attend the exposition and vote.
Both awards were designed by renowned sculptor Bathsheba Grossman whose work has appeared in the New York Times, the London Times, Wired, Discover and Make magazines. Awards will be presented to winning entries during a networking reception on May 24. Some 75+ organizations will exhibit at RAPID 2012 including:
3D Systems
Advanced RP
American Foundry Society
American Precision Prototyping
Applied Technology Integration
Arcam AB
Armstrong Mold Corp
BJB Enterprises
C.Ideas
Capture 3D
CGI 3D Scanning
Connecticut Center for Advanced Technology
Creaform 3d
Delcam
Delta Micro Factory Corp
Desktop Engineering
Direct Dimensions
DSM Somos
Engineering and Manufacturing Services
envisionTEC
EOS of North America
eQuality Tech
ExOne
Faro Technologies
Geomagic
Harvest Technologies
Hexagon Metrology
Innovative Polymers
Innovmetric Software
InTech Industries
Invest Cast
Jesse Garant & Associates
Konica Minolta Sensing
Manufacturing Engineering Media
Materialise USA
Mcor Technologies
Medical Modeling
Morris Technologies
Motorola Solutions
netfabb GmbH
Nikon Metrology
North Star Imaging
Objet Geometries
Product Development Solutions
Rapid Product Development Group
Rapidform
Renishaw
RePliForm
Robotic Solutions
Roland DGA
Saguenay Foundry
SensAble Technologies
ShapeGrabber
Silicones
SLM Solutions GmbH
Society of Manufacturing Engineers
Solid Concepts
Southeastern Institute of Manufacturing and Technology
Steinbichler Vision Systems
Stratasys
TCT Magazine
Tebis America
Technique
VacuCoat Technologies
Vista Technologies
Wenzel America
WTWH Media
View the RAPID 2012 floor plan online.
The RAPID 2012 exposition will inspire attendees with special events such as the 3D printing fashion show, the contemporary art gallery, the Bright Minds mentor program and the announcement of several competition winners including The Edge Factor Show's Reality Redesigned – a student-focused design contest and online reality show awarding more than $20,000 in cash prizes at RAPID 2012.
"RAPID is the longest running industry forum for advancing 3D imaging and 3D printing technologies," said SME business development manager Gary Mikola. "The event provides a unique opportunity for businesses to gain exposure in the growing additive manufacturing industry while helping to accelerate adoption by the global manufacturing community."
To reserve RAPID 2012 exhibit space, contact SME Events at 800.733.3976, Ext. 3159 or exposales@sme.org. Exposition admission is free to conference attendees and traditionally draws hundreds of design and manufacturing engineers who tour the exposition to evaluate and source new equipment.
SME RAPID News:
To receive the latest up-to-the-minute SME news, subscribe to the SME News Feed at http://feeds.feedburner.com/sme. Follow @RAPID_Event on Twitter, Circle Rapid Conference & Exposition on Google+ and Like on Facebook to receive conference updates.
Note to Media:
Journalists can register for media conference credentials online.
About RAPID:
RAPID is North America's definitive additive manufacturing conference and exposition. The event brings buyers, sellers and end-users of design, prototyping, tooling and direct manufacturing technologies together in an environment that facilitates networking and business interaction. Attendees can evaluate the latest materials and machinery, compare processes, talk to industry experts and make valuable contacts. Exhibitors can meet new customers, discuss projects face-to-face and generate sales. For more information, visit: http://www.sme.org/rapid.
About SME:
The Society of Manufacturing Engineers (SME) is the premier source for manufacturing knowledge, education and networking. Through its many programs, events, activities and online training division, Tooling U, SME connects manufacturing practitioners to each other, to the latest technologies and to the most up-to-date manufacturing processes. SME has members around the world and is supported by a network of chapters and technical communities. A 501(c)3 organization, SME is a leader in manufacturing workforce development issues, working with industry, academic and government partners to support the current and future skilled workforce.