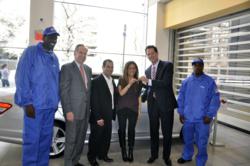 New York, NY (PRWEB) April 06, 2012
Standing in front of her brand new Mercedes-Benz C300 Sport Sedan, Josephine Bozzo could not believe her luck. "Honestly, I just wanted to support the Men in Blue! These men impress me every day with their dedication and drive, and I am honored to consider myself a proud supporter." she said, referring to the participants of The Doe Fund's flagship program, Ready Willing & Able. The initiative helps to clean 150 miles of New York City streets every day, all while empowering formerly homeless and incarcerated men to develop the skills necessary to rejoin the workforce.
Ms. Bozzo won the luxury vehicle by entering a raffle, which ran from June through October of last year and raised over $100,000 for the men of Ready, Willing & Able. Mercedes-Benz Manhattan generously agreed to donate the car for the worthy cause.
The giveaway ceremony, which took place on Thursday at Mercedes-Benz Manhattan's flagship location on 11th avenue and 53rd street, marked the first year of a successful partnership between the luxury car company and The Doe Fund.
Mercedes-Benz General Manager Blair Creed and The Doe Fund's President and Founder George McDonald were on hand to present the keys.
"We just think this is an incredibly important organization" said Mr. Creed; "The Doe Fund and the 'Men in Blue' are so committed to New York, and so too is Mercedes-Benz Manhattan. We are honored to be able to support these gentlemen as they work to change their lives."
Mr. McDonald echoed Mr. Creed's sentiments. "It is fitting that an organization whose tagline is 'the best or nothing' would so generously help a group that also strives to deliver the best every day: The Doe Fund's Men in Blue. We thank Mercedes-Benz for its clear commitment to the citizens of New York, and congratulate Ms. Bozzo on such an exciting win!"
Swimsuit Illustrated model Irena Shayk helped to draw the winning ticket at The Doe Fund's annual Gala on October 27.
The Doe Fund and Mercedes-Benz Manhattan will partner again this year for the Men in Blue. Raffle sales will begin in the spring of 2012. Please visit http://www.doe.org/raffle for details.
About The Doe Fund
Headquartered in New York City, The Doe Fund is a $50 million, multi-disciplinary human services agency that helps 1,000 people every day to better their circumstances through programs providing paid work; workforce development and job placement; transitional, supportive, and permanent housing; drug testing and counseling; and comprehensive social and educational services. All once homeless or incarcerated, the "men in blue" of the organization's flagship program, Ready, Willing & Able, can be seen cleaning 150 miles of New York City streets every day, rain or shine. This paid transitional work is the first step they take toward self-sufficiency, and they complete Ready, Willing & Able with full-time, permanent employment, apartments of their own, and their sobriety. To learn more, visit http://www.doe.org or http://www.facebook.com/TheDoeFund, or follow @TheDoeFund on Twitter.