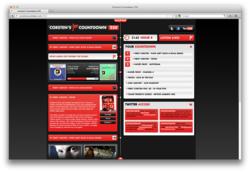 In keeping with the interactive element of the weekly Corsten's Countdown show, www.corstenscountdown.com allows listeners to vote for their favorite tunes, send in song requests and discuss the show as it happens.
New York, NY (PRWEB) April 05, 2012
Having surpassed the milestone of 20 years as a globally acclaimed DJ, producer and recording artist, The Netherlands' Ferry Corsten launches a live, interactive website to mark the 250th episode of his "Corsten's Countdown" (http://www.corstenscountdown.com, Twitter hashtag "#CC250") internationally syndicated weekly radio mixshow. The 250th episode of Corsten's Countdown will air on SiriusXM Radio in the U.S. on Wednesday, April 11th, 2012 (from 10:00am – 6:00pm EDT). The hugely popular radio show currently airs in more than 50 countries and is a conduit between Corsten and music-lovers from around the globe.
A world-famous EDM (electronic dance music) DJ/producer who consistently sells-out the world's most acoustically lush nightclubs and performs on the world's most massive festival stages, Ferry Corsten embodies the sound and philosophy of uplifting, driving, melodic trance, although he is also known for techno, electro and progressive-house music. Never one to rest on his formidable laurels, Corsten is a tireless overachiever and his tour itinerary reads like an exotic manifest of the world's must-attend music festivals and nightclubs: Electric Daisy Carnival, Ultra Music Festival, Dance Valley, Tomorrowland, Bal En Blanc, Sziget Festival, Global Gathering Festival, Creamfields, Amsterdam Dance Event, Electric Zoo, Space Club Miami, Pacha New York City, Marquee Las Vegas, and countless other venues around the world. Corsten's own "Full On Ferry" live show concept has also traveled successfully around the world as a fully immersive EDM experience and the show exhibits no signs of slowing.
As a producer, Ferry Corsten's fourth and latest studio album, WKND (Ultra Records/Flashover), has been widely well-received and includes the hit singles: "Check It Out," "Feel It," "Ain't No Stoppin'" and "Brute," the former a collaboration with Armin van Buuren. With more than 160 singles released over two decades, it's impossible to overstate Corsten's contribution to the electronic music genre. A mere handful of his hit singles include: "Punk," "Gouryella" and "Walhalla" (both as Gouryella with Tiësto), "Carte Blanche" (as Veracocha with Vincent de Moor), "Out Of The Blue" (as System F.), "Rock Your Body Rock," "Right Of Way," "Fire," "Bring The Noise" (vs Public Enemy), and countless others. Corsten's list of industry awards is as long as his DJ Magazine "Top 100 DJs" poll rankings have consistently been high, but it's Corsten's ability to read a crowd and whip audience members into a lather that's kept him in demand for over two decades.
For the CC250 live broadcast, surprise guests from Corsten's WKND album will perform live. In keeping with the hugely popular interactive element of the weekly Corsten's Countdown show, the http://www.corstenscountdown.com site is the place to be whereby listeners from around the world can vote for their favorite tunes, send in song requests and discuss the entire show as it happens. This new website is based on a timeline that will allow music-lovers to see what is being discussed, as well as offer relevant factoids about each track that is being played. Additionally, listeners will be able to vote in real-time for their favorite tracks and even build their own tracklistings! The data will be quickly culled to determine the top-three tracks on the show in the final hour of the broadcast. The artists and tracks voted to the top of Corsten's Countdown each week are an accurate bell weather for what's hot in EDM, a veritable "top 10" chart.
Recent and previous "#1" tracks on Corsten's Countdown include (in alphabetical order, some tracks remained #1 for more than one week):
Artist, Title, Label
Andrew Rayel, "550 Senta" (Aether Mix), A State Of Trance
Armin van Buuren pres. Gaia, "J'ai Envie De Toi," Armind
Cosmic Gate ft Emma Hewitt, "Be Your Sound" (Extended Mix), Black Hole Recordings
Deadmau5, "Aural Psynapse" (Original Mix), Ultra Records
Ferry Corsten, "Take Me" (Original Extended Mix), Flashover Recordings
Ferry Corsten ft Ben Hague, "Ain't No Stoppin'" (Extended Mix), Flashover Recordings
Ferry Corsten ft Betsie Larkin, "Not Coming Down," Flashover Recordings
Jacob van Hague, "Convoi" (Original Mix), Doorn Records
Loverush UK ft Bryan Adams, "Tonight In Babylon" (Ronski Speed & Stoneface & Terminal Remix), Polydor Records
W&W ft Bree, "Nowhere To Go" (Shogun Remix), S107 Recordings
Select Territories Where "Corsten's Countdown" Can Be Heard:
(Those marked with an "*" asterisk denote stations airing the CC250 broadcast)
Territory, Radio Station
(various, online), Digitally Imported Radio, http://www.di.fm
Argentina, http://www.Energynet.fm *
Australia, Radio Metro / Kik FM Radio
Belgium, C-Dance / Warm FM Radio
Brazil, http://www.DanceParadise.com.br *
Bulgaria, http://www.AlphaRadio.bg *
Cyprus, Mix FM Radio
Finland, NRJ Radio
France, Radio FG
Greece, http://www.TrafficFM.gr *
India, Radio Indigo
Ireland, RTE 2FM Radio
Italy, Radio Sound
Lebanon, NRJ Radio
Mexico, MAS Music
New Zealand, UpFM Radio
Russia, Radio Record
The Netherlands, Slam! FM Radio
Turkey, http://www.gercek.fm *
U.S., SiriusXM Radio *
Ukraine, DJ FM Radio
To view the trailer for the Corsten's Countdown #250 broadcast, visit: http://www.youtube.com/watch?v=iEQe2aU9xYU. For more information, contact Emily Tan Media Relations at +1(917) 318-3758, EmilyEmilyTan(at)aol(dot)com, and visit http://www.corstenscountdown.com. Follow Ferry Corsten's Twitter feed, "@FerryCorsten."