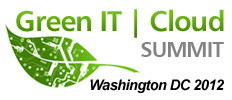 Herndon, VA (PRWEB) April 05, 2012
The Green IT Council today announced its 2012 participants. The executive management team pairs subject matter experts with case studies of success projects. The Green IT Council has assembled an all-star line-up of movers and shakers in the field of Green IT and Cloud Computing. "This year's participants are unique among professionals in information technology, because they represent some leading edge technologies in energy efficient computing," says Raj Kosuri, Director of the Green IT Council.
The Green IT and Cloud Computing Summit is an annual event for professionals in government and commercial business to come together to discuss innovations in sustainable IT. Originally started in 2009 to commemorate Earth Day, it has grown to be a watering hole for industry subject matter experts reporting on leading edge technologies.
2012 Participants:

Jim Duffey, Commonwealth of Virginia
Gerald Caron, US Department of State
Scott Paisley, JouleX
Derek Schwartz, SRA International
Christian Shrauder, Fusion-IO
Chris Featherstone, V3 Systems, Inc.
David Paschane, Ph.D., Veterans Affairs Administration
Zhiming Xue, Microsoft Corporation
Kevin McDonald, ICF International
Brett Micheals, SeaMicro (an AMD company)
Chad Lawler, Hitachi Consulting
Wayne Adams, SNIA
Kathryn Erickson, Fusion-IO
Khuloud Odeh, Grameen Foundation
Carol Baroudi, Author of "Green IT for Dummies"
Raj Kosuri, Green IT Council
About the Green IT Council
The Green IT Council is a non-profit initiative started by leading experts in the IT Industry. The purpose of the Green IT Council is to educate IT professionals, managers, and government on the need
for eco-friendly technology. The council works with leading experts to determine a standard for Eco-friendly technology, and the true environmental impact. It recognizes and awards companies showing a forward thinking view of technology and its environmental impact. http://www.greenITcouncil.org