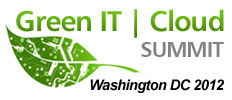 Herndon, VA (PRWEB) April 04, 2012
The Green IT Council is proud to announce the honorable Jim Duffey, the Secretary of Technology for the state of Virginia, as the main keynote speaker for the Green IT Summit.
The Secretary of Technology and its agencies are responsible for the efficient and effective use of information technology to simplify government operations, advance technology applications to improve public services, and drive the innovation economy through the Commonwealth's leadership.
The Secretary of Technology oversees two agencies: Virginia's Center for Innovative Technology (CIT), and the Virginia Information Technology Agency (VITA).
"Mr. Duffey is no stranger to the Green IT Council, he has honored us with his presence at previous Green IT Summits, and we are glad to have him back this year", says Raj Kosuri, Director of the Green IT Council.
About the Green IT Council
The Green IT Council is a non-profit initiative started by leading experts in the IT Industry. The purpose of the Green IT Council is to educate IT professionals, managers, and government on the need for eco-friendly technology. The council works with leading experts to determine a standard for Eco-friendly technology, and the true environmental impact. It recognizes and awards companies showing a forward thinking view of technology and its environmental impact. http://www.greenITcouncil.org