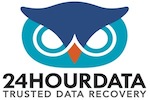 New York, NY (PRWEB) April 04, 2012
24 Hour Data, based in Dallas, Texas, already provides data recovery services with the highest success rate across the U.S. The new facility allows the company to offer several benefits to East Coast customers -- benefits already enjoyed by customers in the Southwest. This includes:

Clean Room Data Recovery Service for New York City
Same Day Data Recovery Service
Professional RAID Data Recovery
The new facility has a certified clean room environment for physical data recovery that might require a hard drive case to be opened.
24 Hour Data specializes in:
RAID Recovery
Hard Drive Recovery
Mac Recovery
SSD Recovery
Database Recovery
Like 24 Hour Data's state-of-the-art Dallas facility, the new office is located in a secure corporate facility. Recovered data is stored on 100 percent secure servers. And 24 Hour Data's trained data recovery engineers vow to keep clients' mission critical files 100 percent confidential at all times.
"We understand that facing unexpected data loss creates great stress on an IT professional, business owner, or even an individual," says 24 Hour Data President and CEO Sean Wade. "We do everything we can to offer peace-of-mind to our clients during this difficult time, and that means offering a fast, honest estimate, affordable pricing, and our promise that all recovered data is safe and secure in our hands. Our servers and our facilities are protected by the highest levels of security, and our data recovery experts keep all information and files confidential."
Central Location for New York City Businesses in Midtown Manhattan on Park Avenue between E. 39th and E. 40th Streets, 24 Hour Data's New York branch is equipped to serve businesses from:
The Financial district, where lost data can mean the loss of millions of dollars
Broadway, where every second counts for show engineers
The Fashion district, where designers count on mission critical files every day
Madison Ave., where advertising firms rely on Mac data recovery services in a pinch
All across Manhattan and the New York Tri-State area , where the fast pace of city life means data recovery must be quick, complete, and 100 percent secure.
Of course, 24 Hour Data will continue to provide data recovery services nationwide; customers can select the office closest to their home or business for faster service and greater convenience.
"We've already had a tremendous response from this market, and we look forward to being able to serve the New York metro area with even faster, more convenient service thanks to our new office," Wade says.
24 Hour Data's New York location celebrates its grand opening on April 1, 2012.
About 24 Hour Data - 24 Hour Data, based in Dallas, Texas, is an industry leading data recovery firm specializing in logical and physical recovery of hard disk drives, RAID servers, photos, Macs, flash drives, solid state drives, virtual arrays and more. We understand the personal side of the data recovery business, and offer round-the-clock service and a fast and honest estimate, along with data recovery within 48 hours, in most cases. Go to http://www.24hourdata.com to find out more.
For more information:
Call: 866-598-3282
Email: Info(at)24hourdata(dot)com
Media:
For interview opportunities and expert quotes or high resolution images, please contact Sean Wade at info(at)24hourdata(dot)com.