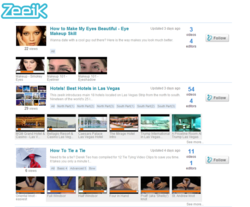 Some people have said that Zeeik.com is a Pinterest for video, but we are more focused on knowledge seekers, not entertainment seekers
Palo Alto, CA (PRWEB) April 04, 2012
Zeeik.com, an open-beta website launched last month, allows people to collaboratively find and collect YouTube videos for any subject requested by users.
As opposed to serving as a huge storage space for YouTube videos, Zeeik.com features fewer YouTube videos, but they are the best ones on that specific subject. For example, if you search YouTube for a video on how to tie a tie, you'll find hundreds of videos, but you won't know which one contains the exact information you are seeking. Some videos may be five minutes long before they show you how to tie a tie. Some videos may show you the wrong way to tie a tie. Zeeik.com whittles down that plethora to the best videos on how to tie a tie. There are no undesired videos or scenes on Zeeik.com.
On Zeeik.com, collected YouTube videos are packed and maintained in a video collection called a "zeeik." Users are encouraged to collaborate on zeeiks and can partake in any or all of the following steps: request a zeeik, contribute and review videos in the zeeik, or edit and publish the zeeik. Users can also share their zeeiks with friends, making Zeeik.com a social website.
"Some people have said that Zeeik.com is a Pinterest for video, but we are more focused on knowledge seekers, not entertainment seekers," says Tae Sung Chung, founder and CEO. "However, the comparison to Pinterest does make it easier to explain our website. Zeeik.com is essentially a video-version of Pinterest, which is a photo curation website where people collaboratively post and share photos on virtual corkboards."
Some of the current zeeiks featured on Zeeik.com include videos on the 2012 presidential election, fitness, food, music, and sports. New zeeiks are being published daily.
Presently, only YouTube videos are available to include in a zeeik, but that won't always be the case. There are also hidden bugs, which users can report by clicking "Report a bug" at the bottom of each page.
"We still have a long way to go. Due to a limited budget, we just made the key features, but we plan to offer more features in the future," said Chung. "We look forward to reaching out to knowledge seekers."
The Zeeik.com team hopes to get positive user feedbacks and traction. The executive team is currently fundraising in the San Francisco Bay Area.
About Zeeik.com
Zeeik.com is dedicated to ensuring quality driven video content for each visitor to their website. Established in 2007 in Pennsylvania, Compeprice LLC recently moved to Palo Alto, Calif. The website Zeeik.com officially launched under test mode on February 28th, 2012 and their mission is to create a better way to watch information on the internet. For more detailed information about Zeeik.com, please email info(at)zeeik(dot)com.