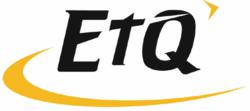 This seminar is an excellent venue for Life Science professionals who wish to incorporate effective risk-based methods, and adverse event tracking tools into their Quality System
Farmingdale, NY (PRWEB) April 05, 2012
EtQ, Inc., is pleased to announce that on Tuesday, April 24th, it will be hosting its 3rd Annual Life Science Seminar at the Conference Center at Waltham Woods in Waltham, MA.
This seminar is free to all attendees and will center on the theme of best practices in complaint handling, CAPA, and risk-based QMS. The seminar will feature sessions led by industry experts, who will look into methodologies such as:

Managing and tracking a Complaint Handling System
Linking Complaint data to eMDR
Integrating Quality Management Systems with Salesforce.com
Real-world case studies on Complaint Tracking, eMDR, Global Harmonization, and Risk-Based Quality
Lessons learned from implementing software solutions
"This seminar is an excellent venue for Life Science professionals who wish to incorporate effective risk-based methods, and adverse event tracking tools into their Quality System," stated Glenn McCarty, Chief Executive Officer at EtQ. "We will cover topics such as linking adverse event data to the Corrective and Preventive Action (CAPA) system and integrating Complaint Handling systems with third-party tools. We will also discuss the best practices for effectively creating a harmonized system. We are looking forward to meeting with the Life Sciences community to discuss these and other topics at our 3rd Annual Life Science Seminar."
EtQ's Life Science seminar will include sessions led by Kenneth Ray, Director of Global Quality Systems and Continuous Improvement at Celgene Corporation; Ben Bollenbacher, Global Quality Assurance at Kimberly-Clark Corporation; and Glen Fraser, Product Manager at EtQ.
For more information or to register for EtQ's free Life Science Seminar, visit us at http://www.etq.com/seminar/.
Celebrating 20 Years of Excellence
Founded on March 4, 1992 by former lead auditors of Underwriters Laboratories, EtQ has always had a unique knowledge of compliance processes related to GMP, Quality, Safety, and Environmental Health and Safety (EHS) Management. This year, EtQ celebrates 20 years of excellence and continues to be the leading FDA Compliance, Quality, Safety and EHS solution provider for identifying, mitigating and preventing high-risk events through integration, automation and collaboration. EtQ encompasses a wide variety of industries, providing solutions for FDA Compliance, Quality, EHS, Aviation Safety, and Food Safety Management. EtQ uses best in class integrated modules and enterprise application integration to manage and measure these compliance processes and execute organizational change. EtQ's solution, Reliance, is an enterprise suite of modules designed to foster operational excellence in businesses with modules and utilities such as eMDR, Complaint Handling, Risk Management, CAPA, Document Control, Employee Training, Supplier Rating, FMEA, Audits, Automated Validation, and many more. EtQ has been providing software solutions to a variety of markets for 20 years. For more information, please visit http://www.etq.com.
To schedule a live demo, contact us at http://www.etq.com/demo/livedemo. For more information, visit EtQ at http://www.etq.com.
EtQ is a trademark of EtQ Management Consultants, Inc. All other product names and company names are trademarks or registered trademarks of their respective owners.
###