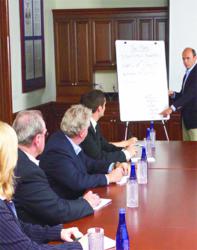 This will be a dynamic day of executive interaction where I will share military principles, lessons, and skills about leadership and teamwork that generate success when transferred to the business world.
New York, NY (PRWEB) April 04, 2012
William C. Martin, President and Founder of The Initiatives Group, LLC will lead a one-day Commanding Leadership Excellence Seminar for Chief Executive Officers and other Senior Executives at the Cornell Club in New York City on April 19, 2012.
Attendees of the Commanding Leadership Excellence Seminar will receive:

A full day of leadership training and guidance from a retired US Army General and now consultant to some of the top Fortune 500 companies in the world
Concrete skills and techniques that can be implemented immediately including: instilling confidence, crisis management, developing leaders, and developing strategy
Strategic leadership materials for further study
Interaction with some of the area's top leaders through networking and sessions
Registration for the seminar is $750 and is available online. Group rates are also available. Attendees can register and see the full agenda online at http://www.commandingleadershipexcellence.com.
Martin, the former Deputy Adjutant General of New York State, and Strategic Analyst and Speechwriter for General H. Norman Schwarzkopf, founded The Initiatives Group, LLC in 2001 to bring the doctrine of military leadership, refined for corporations through his analysis and study, into the private sector to help companies be successful. The firm works with organizations throughout the United States and around the world, including Fortune 500 companies.
For more information or to register, potential attendees should visit http://www.commandingleadershipexcellence.com.
###