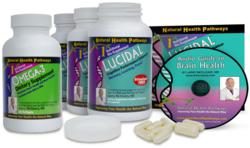 These supplements can benefit everybody
Seattle, Washington (PRWEB) April 03, 2012
DNA Response, Inc., provider of multi-channel e-commerce, marketing and order management solutions, has launched the Natural Health Pathways on-line store. The new store offers a variety of natural health supplements that improve brain function, maintain healthy weight and support bone health.
Developed by Dr. Larry McCleary, author of Feed Your Brain, Lose Your Belly, Natural Health Pathways produces innovative natural supplements based on scientific research. He has developed and patented revolutionary formulations to improve overall health and wellbeing with natural ingredients.
One of Natural Health Pathways' top products, Lucidal Cognitive Performance Enhancer, contains 50 important vitamins and minerals that work together synergistically to sharpen concentration, enhance thinking speed and clarity and improve mood. Other popular products include the calcium free Bonexid Bone Strengthening Supplement, which increases bone formation and decreases calcium loss, and VitaLoss, which has been shown to almost triple weight loss by decreasing appetite and speeding up calorie burning. None of the supplements contain caffeine or other stimulants and improve your health in a natural, holistic fashion without any jitters.
"We are excited to provide online marketing and e-commerce services to the great products from Natural Health Pathways," said Ranjit Mulgaonkar, CEO of DNA Response, Inc. "These supplements can benefit everybody: Lucidal keeps your mind sharp, Bonexid keeps your bones strong and VitaLoss helps achieve weight loss goals."
"Many supplement makers base their claims on trials of individual ingredients rather than their products and frequently don't include sufficient quantities of certain ingredients to be effective. Successful double-blind, placebo-controlled clinical trials using the exact formulations of Lucidal, VitaLoss and Bonexid set them apart from competing products. The study results have been reported in peer-reviewed medical journals," said Dr. McCleary, Founder of Natural Health Pathways.
About Natural Health Pathways.
Natural Health Pathways develops and distributes scientifically based, clinically tested nutritional supplements. Its current patented products include Lucidal, which improves various parameters of mental function, Bonexid, which supports bone health by improving calcium retention, increasing bone build up and decreasing bone breakdown and VitaLoss, which promotes weight loss.
About DNA Response.
DNA Response, Inc. (DNA) provides turnkey e-commerce, online marketing, and order management services to companies in the $300 Billion direct response market. DNA clients sell products direct to consumers using TV, radio, print catalogs, web and mobile as their sales channels. DNA's ECOM2TM platform utilizes state-of-the art cloud computing technologies and services to improve operational efficiency by reducing transaction costs, eliminating credit card declines, and lowering order cancellations and product returns, while simultaneously increasing online revenue for our clients. DNA provides universal order management for processing orders in real time from all the sales channels with full visibility to the business for the clients. DNA generates incremental revenues and helps build a brand for our clients by providing comprehensive e-commerce and online marketing services.