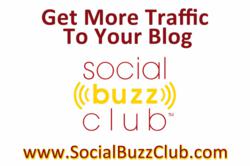 San Diego, CA (PRWEB) April 04, 2012
"We are excited to introduce the Social Buzz Club to our members," says West. "Expanding your influence has everything to do with two things: 1) how much quality content you produce and 2)how it gets shared across the social web. Social Buzz Club is simply the best content syndication system provider for my members. I trust them and nowadays trust is everything."
Social Buzz Club is made up of bloggers, social media professionals, entrepreneurs, business owners and internet marketers whose sole purpose is to spread one another's content throughout their social channels. "Our philosophy is simple, we want our members to get the most visibility and traffic to their websites and blogs, and we focus on teaching and building reciprocity – people have to share content in order to get their content shared," adds Rose.
InfluenceExpansion.com is a membership Academy of entrepreneurs who learn social media planning and strategies that work. The Academy offers social media training for as low as $5 per month via their Nano program – but, there are membership levels to match every price point. Lena West is an award-winning social media consultant, blogger, speaker, journalist, technologist and the Founder of the Influence Expansion Academy, the only social media marketing training program created exclusively for women business owners.
Through the alliance, Influence Expansion Academy members are offered Social Buzz Club membership at 50% off of the monthly memberships (as low as $4.99 per month) to get access to over 500 influencers who regularly share content.
"This alliance is the perfect win-win for the Social Buzz Club and InfluenceExpansion.com communities," says Rubinstein." We are proud to be selected by Ms. West and are excited to be working together."
About Social Buzz Club -- Social Buzz Club is a blog content syndication system that provides bloggers, content providers, authors, speakers and internet and social media marketing professionals with a way to share content through a highly developed network of other professionals who all use the Social Buzz Club technology. The latest version of Social Buzz Club has a 100% free membership level as well as levels that allow for sharing to Facebook pages, groups and LinkedIn Groups as well as multiple Twitter accounts. Google Plus is coming soon.
To learn more about the Social Buzz Club visit: http://socialbuzzclub.com
About InfluenceExpansion.com -- InfluenceExpansion.com is the home of the Influence Expansion Academy , the only social media marketing training program created exclusively for women entrepreneurs. The Academy offers membership programs at varying price points, starting as low as $5/mo. for their Nano program, up through and including Starter, Intermediate, Advanced and Elite levels. Comprised mostly of women business owners, the Academy is touted as THE place for women entrepreneurs to learn how to effectively leverage social media to build growing, sustainable, profitable businesses.
To learn more about the Influence Expansion Academy visit: http://www.InfluenceExpansion.com