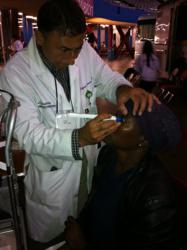 Dr. Khanna was pleased to help a wonderful cause such as Care-Now-LA and he was eager to aid and assist as many patients as possible.
Los Angeles, CA (PRWEB) April 04, 2012
CareNow recently held its annual four-day-long free clinic at the Los Angeles Sports Arena. Over 3,500 uninsured Los Angeles residents received much needed free medical, dental, and vision services from over 600 medical professionals. Among them, Dr. Rajesh Khanna, Los Angeles Lasik surgeon did his part by servicing patients; providing free eye exams, diagnosing patients with vision problems, such as cataracts, providing updated prescriptions, and helping patients get fitted for glasses. Dr. Khanna was pleased to help a wonderful cause, such as CareNow, he is eager to aid and assist as many patients as possible. While checking the vision of one patient at the event he remarked, "During a time like this when all are struggling to stay afloat, medical professionals need to step up and contribute by servicing those in need of medical attention." Dr. Khanna is extremely passionate about vision and often tries to assist patients by providing charity surgeries or free care in his Beverly Hills or Westlake Village offices. Dr. Khanna believes that great vision is important for people of all ages and plans on trying to spread vision education and reach patients all over the world. Patients were elated to receive care from esteemed surgeons such as Dr. Khanna, and the other talented medical professionals. Several community members and media outlets remarked how admirable it is for physicians and surgeons to take time, and effort to help those less fortune, truly in need of medical attention.
Over the course of the four-day event patients were able to receive not only vision and dental services, but a multitude of services including, free immunizations and screenings, such as mammograms and pap smears, tooth extractions, podiatry consultations, as well as medical education and counseling. CareNow even made it possible for patients to schedule free follow-up appointments for those in need of additional medical assistance. The event was made possible by the combined efforts of Los Angeles medical professionals in the dental, health and vision fields, and additional help from over 1,100 volunteers assisting physicians, spread awareness and providing for the under severed. Over the course of the four days more than 6,000 procedures and screenings were performed.
CareNow has proved to be a revolutionary and inspiring healthcare system that serves America's urban communities. It is remarkable the amount of patients that were able to receive the free care that they so desperately needed during the short four day span in Los Angeles. CareNow is consistently working to brings medical care, awareness and optimism to uninsured inner-cities. It is through community resources, volunteers and medical professionals that CareNow is able to provide such services and free clinics to help those without access to the healthcare. The organization is funded by generous donations and the volunteer work of many skilled professionals, as they continue their mission to promote health and well being by facilitating sustainable, quality health care all across the United States.
Khanna can be reached by phone at 1-877-2-KHANNA or via email with the convenient form on the website. For more information, visit the website at http://www.khannainstitute.com.
ABOUT RAJESH KHANNA
Dr. Rajesh Khanna is an internationally recognized LASIK and refractive vision care specialist. He graduated among the top of his class in medical school and is a member of the UCLA faculty. Utilizing his skills to instruct a new generation of eye surgeons on the safest and most effective techniques and procedures, he pioneered many of today's techniques in LASIK and refractive surgery. Khanna invented a variety of instruments to aid in surgeries and speaks at a myriad of national and international professional venues each year. He participates in refractive surgery conferences and wet labs worldwide. Featured extensively in print and broadcast media, he's received prestigious awards and honors from the World Health Organization. He's a member of the American Medical Association, the prestigious American Academy of Ophthalmology and the American Society of Cataract and Refractive Surgery, and certified by the American Board of Ophthalmology.