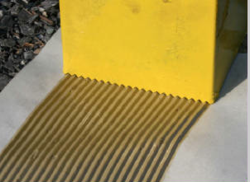 Hellas has taken environmental responsibility and employee safety to the next level with the adoption of Proline
Austin, TEXAS (PRWEB) April 04, 2012
Hellas Sports Construction announces exclusive Proline® seaming system to its field installation process and green initiatives.
The greenest synthetic turf adhesive in the U.S., Proline is non-carcinogenic, containing no solvents or Isocynanate and less than 2% VOC (volatile organic compounds).
Developed by global adhesive manufacturer Akzo Nobel, the Proline seaming system is a fully integrated installation process that includes Proline T44 elastic adhesive. In combination with Hellas' complete line of custom manufactured seaming equipment it is designed to deliver a more durable and consistent seams for the company's entire turf product line.
Many artificial grass adhesives on the market today contain Isocyanates and solvents, and users are typically unaware of the health risks. "Isocyanates can be harmful if inhaled and it can cause irritation to the eyes, respiratory system and skin," Lasse Holm, Manager for Akzo Nobel Bygglim. "Hellas has taken environmental responsibility and employee safety to the next level with the adoption of Proline."
Unmatched in quality and environmental benefits, Proline is a one-component adhesive, eliminating the mixing of components on-site. As a result, Hellas projects offer a flexible product that isn't dependent on the weather and will not cure hard like other adhesives. Not affected by moisture it can be applied in rain or shine.
"Proline gives us the ability to install fields both indoor and outdoor without comprising the health of our workers, it's easy to use and the results are superior over all other products on the market," said Bruce V. Layman, vice president of operations at Hellas Construction. "Combined with the 8-year seam rupture warranty, the only one of its kind in the world, it's a win-win for Hellas and our customers."
The Proline T44 is one of the product components offered in Hellas' product line offering green initiatives, including the turf fibers, polyurethane backing and rubber infill. Hellas' is implementing the new product practice immediately for its new clients and repeat customers.
Hellas Sports Constructions' client base include many prominent organizations and educational institutions such as: Dallas Cowboys Stadium, Baylor University, Northern Arizona University, University of Georgia, Idaho University, Idaho State University, The Alamodome, University of North Carolina, The Cotton Bowl, The Alamobowl, The Sun Bowl, The International Bowl and the NFL Experience.
To learn more about Hellas green practices visit http://www.HellasConstruction.com.
About Hellas Sports Construction
Headquartered in Austin, TX, Hellas is one of the largest sport contractors in the United
States. While specializing in the general construction of sports facilities and synthetic surfaces, Hellas also champions innovative turf manufacturing, base construction, field, track and tennis installation and maintenance. Hellas controls all business processes to take its products directly to its customers, including marketing, sales, quality control and project management. For more information visit HellasConstruction.com.
Hellas' partnership with legendary materials manufacturer, Royal TenCate, has positioned the company for continued success. TenCate Grass develops and produces synthetic turf components and designs systems for top-flight sport, recreation and landscape applications. Together with its partners, TenCate Grass strives to achieve a system approach. This gives users confidence in playing characteristics and lifespan. TenCate Grass has production facilities in Europe, the Middle East and North America.