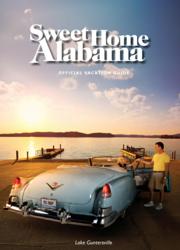 "Growing up in Alabama, I daydreamed about going to Hollywood, not realizing it was possible for Hollywood to come to me,"
Montgomery, AL (PRWEB) April 04, 2012
A statewide bass trail, 100 road trips campaign, the state's first Iron Chef America winner and the groundbreaking for a new baseball park in Birmingham are among the list of what's new in tourism across Alabama. The 20th anniversary of the Robert Trent Jones Golf Trail and the 60th anniversary of the Birmingham Museum of Art mark milestones of tourism attractions.
The Alabama Tourism Department has compiled the following list of new tourism-related events, attractions, restaurants, hotels, outdoor and entertainment since November 2011.
STATEWIDE TOURISM CAMPAIGNS:
100 ALABAMA ROAD TRIPS
The Alabama Tourism Department has launched a multi-year Alabama Road Trips campaign. The first 10 road trips have been published on the state tourism website http://www.100RoadTrips.com and include a romantic getaway in Mobile, Gulf Coast Beaches, a downtown Birmingham walking tour, an adventure at the U.S. Space & Rocket Center and the "To Kill A Mockingbird" experience in Monroeville. One hundred road trips will be published over the three-year campaign. Visitors are encouraged to frequent the website for the addition of new road trips.
Alabama Food
The Alabama Tourism Department's multi-year campaign kicked off in January 2012 and will run through 2014. The campaign includes special events such as the first statewide Restaurant Week and a BBQ Sauce contest. The brochure "100 Dishes to Eat In Alabama Before You Die" was update with more than 30 new listings. A statewide BBQ is scheduled to launch in 2013.
The campaign also included the addition of a new website http://www.yearofAlabamafood.com and twitter@Alabamafood
RESTAURANT/FOOD:
Restaurant Week - Statewide
As part of the Year of Alabama Food campaign, the tourism department will hold a statewide "Restaurant Week" August 17-26, 2012, during which locally owned and operated restaurants will be able to showcase their dishes by offering fixed price menus at a discount.
Birmingham Named one of Tastiest Towns in Southeast
The April issue of Southern Living magazine places Birmingham among the South's "10 Tastiest Towns" for its chefs, artisans and restaurants that give the city its distinct local flavor. http://bit.ly/H8WDyA
Alabama Chefs Finalist for James Beard Foundation Awards
The Alabama nominations spanned four categories: Best New Restaurant (Ollie Irene, Mountain Brook), Outstanding Restaurant (Highlands Bar and Grill, Birmingham), Outstanding Restaurateur (Nick Pihakis, Jim 'N Nick's Bar-B-Q) and Best Southern Chef (Chris Hastings, Hot and Hot Fish Club; James Lewis, Bettola; Wesley True, True, Mobile).
Often called the "Oscars of the culinary world," the James Beard Foundation Awards will be announced May 7 in New York City. http://www.jamesbeard.org
Chef Frank Stitt named to Esquire Restaurant Hall of Fame - Birmingham
Birmingham Chef Frank Stitt has been inducted into Esquire magazine's Restaurant Hall of Fame.
Hot & Hot Fish Club Chef Chris Hastings wins Iron Chef - Birmingham
Birmingham Chef Chris Hastings competed against world-class Chef Bobby Flay during an episode of the Food Network's Iron Chef America to win. Hastings is the first Alabama Chef to appear on the show and to win the competition.
BBQ Pitmasters to Film Show in Dothan
TLC will be in Dothan for the 7th Annual tri-State BBQ Festival to film an episode of BBQ Pitmasters, a show that portrays the world of BBQ competition. The festival takes place April 13-14 at the Houston County Farm Center. It is scheduled to air on TLC Memorial Day weekend. http://tlc.discovery.com/tv/bbq-pitmasters/
Garage Café Named Among 50 Best Southern Bars - Birmingham
Garden & Gun magazine has named one of Birmingham's most treasured watering holes, The Garage Café among the '50 Best Southern Bars.' http://www.garagecafe.us
Alabama All-Star Food Festival - Montgomery
The Hampstead Institute and Renaissance Montgomery Hotel & Spa at the Convention Center announced the first Alabama All-Star Food Festival in Downtown Montgomery. Join chefs, farmers, breweries and musicians from across the state from 3 to 7 p.m. on Saturday, May 12, 2012 to celebrate the best in local cuisine.
ENTERTAINMENT HEADLINES:
March 23 Proclaimed October Baby Day in Alabama
Governor Robert Bentley proclaimed March 23 as "October Baby" Day in Alabama in celebration of the release of the faith-based movie. It's the first full-length feature movie that was filmed entirely in the state to gain full theatre release and it had a budget of less than $1 million. The film is the first of brothers Jon and Andrew Erwin of Erwin Brothers Motion Pictures in Shelby County. http://octoberbabymovie.net/
The Help's Octavia Spencer is Honored - Montgomery
Academy Award-winning actress Octavia Spencer came back to her hometown of Montgomery where Governor Robert Bentley called her "our favorite daughter of the day." Bentley proclaimed March 21, "Octavia Spencer Day." Spencer won the Academy Award for her performance in "The Help" as the sassy maid Minny Jackson.
The Hunger Games has Strong Alabama Connections
The author behind the "Hunger Games" hit franchise, Suzanne Collins graduated from the Alabama School of Fine Arts in Birmingham. The movie based on the first book in Collins' trilogy had the third best debut in box office history at $155 million.
Two Music Duos from Alabama are very also familiar with the Hunger Games, they have songs on the movies soundtrack. The Secret Sisters "Tomorrow Will Be Kinder" is the second track on the album. The Civil Wars have a duet with Taylor Swift, "Safe and Sound" that's listed as track 4 and "Kingdome Come" which is track 9 on the album.
MEDIA HEADLINES:
Two Alabama Attractions Make Kid's List in Budget Travel
The U.S. Space & Rocket Center in Huntsville and the Birmingham Civil Rights Institute made Budget Travel's list of "15 places every kid should see before 15." A total of 562 attractions across the U.S. were nominated and more than 138,000 votes were cast.
GQ magazine names Billy Reid one of the 25 best men's stores in America - Florence
The April 2012 issue of GQ Magazine named Billy Reid's flagship store in Florence as one the 25 Best Men's Stores in America.
Four Seasons magazine Names Barber Motorsports Must-See Private Museum - Birmingham
Four Seasons magazine has named the Barber Vintage Motorsports Museum in Birmingham as one of the world's 'must-see' private museums. Other museums that made the list include those in Miami, Italy, Switzerland, Thailand and Germany.
USA TODAY Names U.S. Space & Rocket Center Among Top Space Sites - Huntsville
Biscuits Stadium Named One of America's Coolest Ballparks - Montgomery
Riverwalk Stadium, home of the Montgomery Biscuits minor league baseball team, has been named one of the "25 Coolest Minor League Ballparks in America" by Complex magazine.
HONORS AND ANNIVERSARIES:
Railroad Park Wins Award from SATW - Birmingham
The Society of American Travel Writers' (SATW) annual convention announced the 2011 Phoenix Award winners which recognizes conservation, preservation, beautification, and environmental accomplishments as they relate to travel. http://www.railroadpark.org, http://www.satw.org
RTJ Golf Trail celebrates 20th anniversary - statewide
RTJ has expanded to 11 sites, 26 courses, 468 holes and more than 100 miles of breathtaking landscapes from the Shoals and Huntsville to Mobile. The trail is on course this year to welcome its 10 millionth visitor.
To celebrate its 20th anniversary RTJ has several promotions during 2012, most notably, on the 20th day of each month golfers can enjoy a round of golf at most of the RTJ courses for $20 (golf cart not included, not valid at Ross Bridge or Lakewood).
Birmingham Museum of Art celebrates 60th year
http://www.artsbma.org/
NEW ADDITIONS:
Old Courthouse Museum Gets New Amphitheatre - Monroeville
Guests to the 22nd annual "To Kill A Mockingbird" production on the Old Courthouse Museum lawn will experience the performance in newly landscaped amphitheatre sponsored by Georgia-Pacific. The dedication of the amphitheatre will take place Thursday, April 19th during the opening night of the production. http://www.tokillamockingbird.com/
OUTDOOR/RECREATION:
Alabama Bass Trail opens - statewide
Gov. Robert Bentley helped unveil the Alabama Bass Trail at Lake Guntersville State Park in March. The trail consists of 11 lakes that offer outstanding bass fishing in a variety of watersheds and fishing conditions. The lakes are Guntersville, Wheeler, Pickwick, Lewis Smith, Neely Henry, Logan Martin, Lay, Jordan, Eufaula, the Alabama River and the Mobile-Tensaw Delta. http://www.alabamabassrail.org
New Baseball Park to Open in 2013 – Birmingham
City leaders broke ground on a new baseball park that will be home to the AA Birmingham Barons baseball team. The facility sits on land right next to Railroad Park and will have a nice view of the downtown skyline. Officials anticipate the ballpark will be open in time for the 2013 season. http://www.barons.com
Red Mountain Park - Birmingham
Visitors to Red Mountain Park can experience adventure with a zip line tour at Red Mountain Park. Scheduled to open in April 2012, the project is believed to be the country's first universal-access tour of its kind. There are 10 platforms connected by zip lines running from 100 to 350 feet long. http://www.redmountainpark.org
EVENTS:
Alabama's Black Belt Region First World's Widest Yard Sale
A new event is coming to Alabama's Black Belt, the World's Widest Yard Sale May 31-June 2 on Hwy. 80. From Phenix City in East Alabama, follow U.S. Hwy. 80 West throughout Alabama's Black Belt region for the first "World's Widest Yard Sale." http://www.widestyardsale.com.