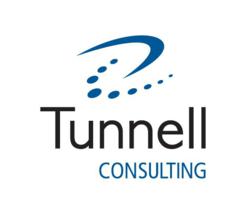 Tunnell is fortunate to have Brian as a partner in helping the leadership team execute our strategy.
King of Prussia, PA (PRWEB) April 05, 2012
Tunnell Consulting, Inc. today announced that Brian E. Kornet has been named Chief Financial Officer and Treasurer of the firm. He succeeds the former CFO, Joseph A. Hare, who recently retired.
Kornet has assumed responsibility for leading the company's financial operations and also serves on the Executive Committee, helping craft business solutions that serve both the future of the firm and meet the evolving needs of its clients. Other key responsibilities include the evaluation of the impact of long-range financial planning, alliances, acquisitions or mergers, pension plans, investments and various benefit plans of the corporation. In addition, as trustee of the Tunnell Consulting ESOP, he has responsibility for plan administration and investment decisions.
"Tunnell is fortunate to have Brian, not only for his financial expertise but as a partner in helping the leadership team execute our strategy," said Tunnell's President and CEO Conrad J. Heilman, Jr., Ph.D. "For the past ten years, during a period of significant growth for the firm, he has been a valuable member of the financial team, and we look forward to his leadership through a period of even greater growth."
Kornet joined Tunnell in 2002 as Controller, managing the firm's accounting team to ensure the security and accuracy of company financial statements and tax returns. Working under the direction of Joseph Hare, he developed a comprehensive understanding of Tunnell's finances and helped to expand and strengthen the department, which supports Tunnell's two business units that provide consulting services to commercial life sciences companies and to the life sciences segments of the federal government.
Before joining Tunnell he was a senior accountant at Smart & Associates and has held accounting and financial positions at Barbacane, Thornton, & Company and Keystone Financial Leasing Corporation. He is a CPA and has CGMA certification.
Retiring CFO Joseph Hare joined Tunnell in 1992 and for the past 20 years helped guide the company through periods of dramatic growth and significant increases in consulting staff. Working under four CEOs, he played a central role in establishing the strategic direction of the firm and in maintaining and enhancing its financial stability.
"For two decades, Joe has been a major contributor to the growth of Tunnell, helping establish a standard of excellence that is the backbone of Tunnell," said Heilman. "We thank him for his years of dedicated service and for the legacy of leadership that he leaves."
Founded in 1962 and serving many of the world's leading life sciences firms and government agencies, Tunnell Consulting, Inc. integrates strategic, technical, process, and organizational skills to design and implement sustainable solutions that exactly meet client needs. With deep industry knowledge, extensive scientific credentials, and superior measurable results, we consistently boost the operating performance of each unique client we serve.