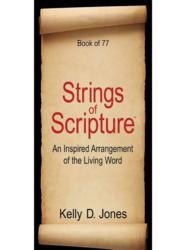 Strings of Scripture is a wonderful gift for bible scholars or those who are looking for an engaging way to study topical themes from the bible.
Des Peres, MO (PRWEB) April 05, 2012
Inside Out Publishing is pleased to announce the launch of Strings of Scripture, The Book of 77, a unique categorization of more than 3,000 Old and New Testament verses that have been compiled from the world's most popular versions of the Holy Bible.
The book's inspired concept presents bible verses by topic. There are 77 topics in this first edition, with the topical verses from both testaments flowing one after the other in a poetic string. All verses are included as originally presented in the most popular printings of the Bible, with the words of Jesus Christ in red. References to each verse are included for further study.
Theology experts may find they are most impressed with how Strings of Scripture presents biblical verses from different times together in one string. Early reviews proclaim the presentation makes messages from diverse scripture very clear, highlighting patterns and key topics that are deliberately and clearly running throughout the Bible.
Three strings of the Book of 77 were released via video clips on a new Facebook page on March 20, 2012, in conjunction with the Spring Equinox and the release of the book to the public.
Videos for String #1 – Jesus, String #4 – Love, and String #50 –Wolves in Wool, have quickly gone viral, gaining the interest and praise from people who are excited about the Strings of Scripture concept.
In the first week, the book's Facebook page had attracted 3,300 fans and hundreds of comments. The book, which is currently available direct from the publisher, will soon be released on Amazon.com and to Christian resellers and booksellers throughout North America. The first DVD, covering Chapter 1 – Devotionals, will be available in April.
Kelly D. Jones, who compiled the Strings of Scripture, says he's extremely gratified by the early response to his work from Christians everywhere.
"This compilation was a labor of love. It was a process I was led to during my own biblical study, meditation and prayer. I've long been a seeker, and through that search, I began studying the bible in every version I could get my hands on. It was nearly all-consuming, and with meditation, patterns were unveiled and linking scriptures revealed that tied everything together. I could not find anywhere else where these truths had been presented in such a way, so that became my quest," Jones says.
The book is being sold direct to consumers, with discount pricing available to churches and other organizations that wish to purchase multiple copies. Proceeds from the sale of the book are being directed toward the study and presentation of information that leads to a better understanding of our world.
For a sampling of Strings of Scripture, visit the Strings of Scripture Facebook page at http://www.facebook.com/stringsofscripture. For more information, or to order a copy of the book, visit the website at http://www.stringsofscripture.com.
ABOUT STRINGS OF SCRIPTURE
Strings of Scripture is a clear, easy to understand guide to topical scripture. It was compiled with the goal of presenting God's truth clearly during a time of intense turmoil within our modern world. The book serves up more than 3000 biblical verses from the Old Testament and New Testament, compiled from the most popular versions of the bible, and arranged topically. The book is designed for personal study, meditation or devotionals. It is ideal for pastoral use or group study. Strings of Scripture is published by Inside Out Publishing, LLC, of Des Peres, Missouri. All Rights Reserved. Copyright 2012.
Strings of Scripture is available direct from the Publisher. It will be available in April 2012 on Amazon.com and will be available in May 2012 at Barnes & Noble Booksellers, and at Christian book stores and retailers nationwide.
FOR RETAILERS AND BOOKSELLERS
Contact dhaugin(at)stringsofscripture(dot)com to purchase copies of Strings of Scripture.
NOTE TO MEDIA
For a critic's copy, cover art, or more information on Strings of Scripture, contact Connie Holubar at outreach(at)stringsofscripture(dot)com