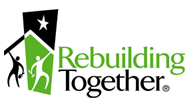 Ventura, California (PRWEB) April 05, 2012
Two homes in the city of Ventura, California will benefit from more than the usual spring cleaning, thanks to Rebuilding Together and friends. Both homes belong to families who can't afford to make needed repairs. The Ventura County chapter of Rebuilding Together will be there on April 28th to get the job done at no cost to the owners, and they are seeking willing hearts and hands through sponsorship and volunteer opportunities.
Rebuilding Together is the nation's leading nonprofit organization working to preserve affordable homeownership. They hold a 4-star charity rating for seven years running from Charity Navigator, the nation's largest charity evaluator.
With the help of everyday citizen volunteers, skilled tradespeople and the support of local government and businesses, Rebuilding Together makes life better for thousands of low-income homeowners every year. Entire communities enjoy the benefits that come from Rebuilding Together Ventura County projects as property values improve and community pride and neighborhood friendships bloom.
"We're always looking for a few more hands on deck," said Tom Cohen, President of Rebuilding Together Ventura County. "It's a chance to do a good deed for deserving families."
Rebuilding Together especially needs sponsors, contractors and painters. For those who can't do the heavy repair work, please consider donating or serving food, providing for large trash bins or port-a-johns, or helping out with lighter tasks. Work starts at 8:30 am and wraps by 4:30 pm, with breakfast and lunch provided.
"There are so many ways to help, we hope people will feel inspired to do their part," said Greg Totten, a member of the Rebuilding Together Board of Directors. "Coming together as a community for projects like this benefit us all as homeowners, business owners and individuals."
Rebuilding Together is grateful for the current sponsorship by the City of Ventura's Community Development Block Grant Program, California United Bank and the American Martial Arts Academy for this project and invites other community-minded organizations and individuals to join in this movement of improving our community together.
About Rebuilding Together
Rebuilding Together believes everyone deserves to live in a Safe and Healthy Home. The organization brings volunteers and communities together to improve the homes and lives of low-income, elderly or disabled homeowners who qualify.
Rebuilding Together began nearly 30 years ago when volunteers in Midland, Texas pitched in after seeing neighbors struggling to afford needed home repairs. Today, more than 200 chapters across the United States have harnessed the talents and energy of some 3.4 million volunteers to save 100,000 homes from decrepitude. Since its inception in 2004, the Ventura County Chapter has rebuilt or revitalized approximately 50 single-family homes, two schools, six day-care facilities and two Boys & Girls Club centers.
Rebuilding Together is a 501(c)3 organization and all donations are tax-deductible.