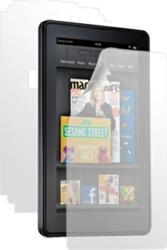 Los Angeles, CA (PRWEB) April 05, 2012
SkinPea is known for its amazing Anti-Ripple Technology in its screen protectors to ensure 100% protection from any possible damage. With its recently released screen protector for the Kindle Fire, it is guaranteed that this product will enhance optimal usage by effectively armoring the device from any scratches, contact with asphalt, and even harsh drops!
Competing markets sell screen protectors, claiming that they are "invisible", but it is proven that SkinPea's Full Coverage Screen Protector for the Kindle Fire has the best ability to make the device look as if it has no cover. SkinPea's very own Anti-Ripple Technology assures a tough 8 mil film that keeps the device looking brand new no matter how much the device is used. Constant handling would usually wear out screen protectors, but SkinPea has developed an antimicrobial treatment along with UV stability to prevent the product from wearing out. The Full Coverage Screen Protector actually strengthens the external part of the Kindle Fire, and extends its usage time to multiple years with its capacity to prevent bacteria and yellowness from long time usage.
With lifetime warranty and guaranteed customer satisfaction, this product is given at the lowest price possible at SkinPea.