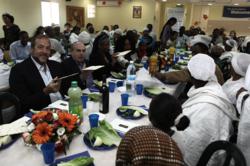 Jerusalem, Israel (PRWEB) April 04, 2012
Against a backdrop of a child's painting of the Ten Commandments and an Ethiopian girls' chorus singing a traditional Passover song about the Torah, the Matriarchs, the Patriarchs, the two Tablets from Mount Sinai, and the Oneness of God, Jewish Agency chairman Natan Sharanky and Rabbi Yechiel Eckstein, President of the International Fellowship of Christians and Jews (IFCJ) hosted a model seder for some four dozen Ethiopian immigrants this week at The Jewish Agency's Mevassaret Zion Absorption Center near Jerusalem.
The model seder served as a prelude to the first night of Passover, this Friday, when more than 5,000 Ethiopian immigrants will gather for communal seders at 16 Jewish Agency absorption centers throughout Israel. For many of the attendees this was the first seder they have ever participated in. In fact, a significant percentage of all the Ethiopian Israelis, who have arrived in Israel this past year, have never participated in a seder.
In November 2010, the government of Israel decided to bring Ethiopian Aliyah (immigration) to a conclusion by allowing some 8,000 emigres to Israel. With this, the government assigned the Jewish Agency to prepare them, as they waited at a transit camp in Gondar, Ethiopia. This included providing Hebrew instruction, courses in modern living, Israeli history and Rabbinic Judaism. Today, The Jewish Agency continues to prepare several thousand émigrés in Ethiopia, all of whom are expected to arrive in Israel within the next two years.
While living at absorption centers, immigrants are provided subsidized, temporary housing as they begin their acculturation process, which includes cultural and social events and programming, intensive Hebrew language classes, vocational training, pre-k through 12th grade academic enrichment for children, and practical introductions to life in Israel.
Rabbi Eckstein, whose IFCJ donated more than $240,000 to help cover the cost of this year's seders said: "Every year I am moved to see the glowing faces of the olim (new immigrants) when they celebrate their first seder in Jerusalam. The olim face a difficult challenge in their absorption into Israeli society and the country's economy. Our task, that of Israeli society, is to eradicate any forms of discrimination and prejudice amd to allow the olim to prosper here in Israel."
Sharansky, whose own journey to Israel, a quarter of a century ago, captured the world's imagination added: "Your Aliyah is the closing of a circle. We have had our 'exodus' from the north, that is from the former Soviet Union, and our 'exodus' from the south, from Ethiopia, in which thousands of olim have come to Israel. I am very happy that The Jewish Agency is about to conclude the chapter of Aliyah from Ethiopia and bring home to Israel the remainder of its Jewish community."
In addition to Shransky and Eckstein other notable guests included Member of Knesset Shlomo Molla, incoming Ambassador of Israel to Ethiopia Beylanesh Zevadia, artists Maharata Baruch and Maski Shibru, and Deputy Brigade Commander Lt. Col. Zion Shenkor.
About the Jewish Agency for Israel
Investing in a vibrant Jewish future, The Jewish Agency for Israel continues to address the greatest challenges of our People in every generation. We connect the global Jewish family, bringing Jews to Israel- and Israel to Jews. We build a better society in Israel- and beyond- energizing young Israelis and their worldwide peers to rediscover a collective sense of Jewish purpose. At the same time, The Jewish Agency continues to be the Jewish world's first responder, prepared to rescue and bring Jews home to Israel from countries where they live at-risk.