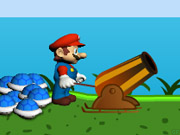 These five new games are just a small taste of all the content available on the Mario Games 365 website.
(PRWEB) April 04, 2012
Mario Games 365, a well-established site for gaming on the web, offering Flash games based on all the greatest Nintendo characters such as Mario, Peach, Luigi, and Bowser, has bumped up its offerings with five new games: Mario Sky Adventure, Super Mario Bros, Mario Monster Truck, Angry Mario, and Mario Cloud Adventure. These five new games offer a wide variety of new experiences for users, all at no cost.
A major new addition to Mario Games 365, Mario Cloud Adventure, is an adventure game that has players use Cloud Mario to escape levels. Cloud Mario is the same character from Super Mario Galaxy 2, and he works similarly here. He can run and jump as normal, but also can create clouds to stand on. This is useful for reaching high platforms or avoiding enemies. Mario has to watch out though, because the clouds disappear after a short time or a certain number of jumps landing on them. Mario Cloud Adventure features classic Mario music to give it that high quality feel. There are a ton of challenging levels available to keep players entertained for hours in Mario Cloud Adventure.
Mario Games 365 also launched another game today, called Angry Mario. Angry Mario provides a unique twist on the formula made popular by Angry Birds. Mario must use a cannon that fires blue shells to blast goombas, but there are a lot of obstacles in his way. The levels start out easy but quickly require a lot of thought. This game can provide hours of amusement as players try to beat the level using the least number of shots.
Yet another unique new game is Mario Monster Truck. As you would expect, this allows players to take control of Mario and his huge monster truck. Players must race through levels, collecting coins, and riding over enemies. Players must keep the truck from flipping over as they blast over hills and collect coins in big jumps. This game features great sprites and looks just like an original Mario game.
Another new addition is Super Mario Bros, the original classic. Recreated here in all its original glory, sometimes the old games are the best. It's just like the original with Mario running across world 1-1 and smashing goombas.
The final new piece of content added today is Mario Sky Adventure. Mario Sky Adventure is a take on a classic shoot-em up game with Mario as the star. Blast down incoming enemies while avoiding their fire in this colorful adventure with original music.
These five new games are just a small taste of all the content available on the Mario Games 365 website. The site offers many games of all kinds and they are all available free. All the games are kid friendly while also requiring enough skill to be interesting to adults. Mario Games 365 is leading the way in free games.