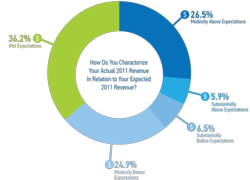 LED-based fixtures are becoming increasingly more popular, up 9% from last year.
Yorba Linda, CA (PRWEB) April 04, 2012
The energy-efficient lighting industry is growing strong, according to a survey by Precision-Paragon [P2], a leader in energy-efficient lighting. The survey was distributed to more than 2,900 energy-efficient lighting professionals across the country in December.
Over the last few years, the energy-efficient lighting industry has grown steadily despite the challenging economy. 69% of survey respondents either met or exceeded their revenue expectations in 2011, and are confident this year will be even better. Over 80% predict more opportunities for growth, both in the industry as a whole and in their individual companies.
"We're prepared for growth – our operations are set up so we can expand, if necessary, and we've added to our sales staff," said Steve Kath, president of The Retrofit Companies, a lighting retrofit company with headquarters in Minnesota.
However, most respondents don't expect growth to occur until after the first quarter. They predict the second and third quarters will be the most lucrative.
More business will mean installing more fixtures. Survey results show that LED-based fixtures are becoming increasingly more popular – respondents estimate that 22% of the fixtures they install will be LED-based, up 9% from last year.
Kath estimates his company will install 10% more LED-based fixtures than they did last year. "We're starting to install more LED-based fixtures for a number of reasons. The technology is improving, costs are coming down and a lot of utilities are beginning to offer more incentives for using LED."
Even though the use of LED is growing, Linear Fluorescent is still the most widely used technology. That won't change in 2012 – 84% of survey respondents say Linear Fluorescent lighting will be the dominant technology they use this year.
The industry's growth is partially due to the increase in rebate programs offered by utility companies. These programs offer incentives to owner/occupiers who complete lighting retrofit projects on their facilities.
"Some states such as Minnesota have lower utility rates than other parts of the country – the lower rate lengthens the payback period so the cost-savings from a retrofit project doesn't look as impressive as it would in states with higher utility rates. The rebates really help make retrofits a more attractive option," Kath said.
Though payback periods may be longer in some areas than in others, the savings are ultimately the same.
"Every company, regardless of where it's located, can benefit from the significant energy and cost savings that come from an energy-efficient lighting upgrade," said Lou Preston, [P2]'s national marketing director.
About Precision-Paragon [P2]: For nearly 20 years, [P2] has made high-quality, indoor-and outdoor energy-efficient lighting products for just about any setting – including retail, commercial and industrial spaces. [P2]'s energy-efficient lighting drastically cuts energy consumption, creating big cost savings and significant environmental benefits. Over the last two decades, [P2] has earned a reputation for going the extra distance in customer service and producing high quality, American-made products. [P2] products are manufactured in Gainesville, Fla., Hudson, Wis., and at the company's headquarters in Yorba Linda, Calif.