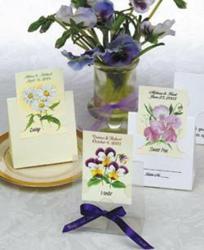 PreferredLocalBusiness.tv proudly welcomes their newest listing for Wedding Favors.
(PRWEB) April 03, 2012
Wedding Favors have never been so easily accessible as they are today, thanks to Forever & Always Inc joining PreferredLocalBusiness.tv, a local preferred business directory that will make Wedding Favors immediately available to internet searchers everywhere.
About Forever & Always Inc:
Forever & Always Inc is one of internet's oldest and most reliable suppliers of wedding favors and wedding gifts. In 1991 the company was started when exclusive seed packets were designed and created for a real life wedding by father / daughter. The father, a graphic artist, produced the original artwork, which is still in use today. The daughter used calligraphy to print the bride and groom's name and marriage date on the front of the hand crafted seed packets. Following the wedding, the new bride started receiving requests to create the seed packets and a new business was born. In 1997, Forever & Always began selling the "Seeds of Happiness"™ seed packet favors on the internet and since then nearly 10,000 happy couples have made their wedding memorable with this delightful one-of-a-kind personalized favor.
Today many brides are continue to select seed favors which are decorative, symbolical and functional. Seed favors have become increasingly popular lately for a number of reasons. First, they can be personalized for the special day. The bride and groom's name and marriage date can be added to the packet along with a personal message like "Thanks for sharing your day with us".
Couples also like seed packet favors because they're surprisingly affordable. They cost a lot less than a pack of gum! A normal bride can spend up to $400 on wedding favors. Wedding seed favors can save the happy couple over $275! Watching the flowers grow and blossom is not only rewarding but are a constant memento of the love planted at the couple's wedding.
Today everyone is much more aware of the environment. What can be more green than a present that can be planted and lasts a lifetime? "Seeds of Happiness"™ seed packets are made from recycled paper and are printed with eco friendly inks. The seeds within are simple to plant and will bring years of enjoyment to each guest. Once planted, they "give back" to the environment, supporting wildlife and beauty in nature, something few other wedding favors can offer.
Forever and Always expanded its market presence in 1993 and today provides a broad range of wedding favors. Whether the couple is looking for beautiful yet inexpensive wedding favor for a wedding on a budget, or a truly unique decoration, the team at Forever & Always is just a phone call away. The company established an in-house personalization department where "Seed of Happiness"™ and many personalized, engraved products are produced. The company prides itself in making sure each and every favor leaves its warehouse as if this were the only favor ever produced... to perfection!
Forever & Always Inc is a family run business. Today, the company's number one priority is to help make that special day "memorable" for wedding couples and their guests. Forever & Always makes it easy to do business, with live customer service representatives and 24x7 internet availability. Their family understands how important it is to take the worry out of wedding details and helps each customer to ensure they get exactly what they want in a timely manner, at a cost they can afford. The family's focus is on 100% satisfaction, so that moms and brides alike enjoy the shopping experience. Their goal is to treat every customer like family.
For a limited time only, readers are invited to visit Forever & Always' PreferredLocalBusiness.tv listing to take advantage of free shipping on "Seeds of Happiness"™ exclusive seed packets.
Forever & Always Inc provides outstanding care delivered by a dedicated team, meaning their clients receive the personalized treatment and attention required for a stellar experience with Wedding Favors. PreferredLocalBusiness.tv proudly welcomes their newest listing for Wedding Favors.