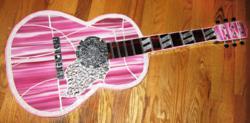 Exquisite Custom Designed Guitar Art to Inspire and Intrigue
(PRWEB) April 05, 2012
Exquisite Custom Guitar Art has been formed to bring "visual music" to special places in homes, offices and commercial developments. Art concepts uniquely combining mosaics and stained glass result in exquisite custom guitars that create intrigue and inspiration for its viewers.
The firm is based out of Atlanta with Paul Heller the principal. Paul passionately explains "my love for singer-songwriters and top-named performers precipitated the creation of a professional art company dedicated in promoting Guitar Art. For many people music is an avenue of both expression and pure enjoyment and this unique form of Guitar Art facilitates creating these feelings in residential and commercial settings."
A recent creation is a spectacular guitar that is an artistic interpretation of Miranda Lambert's "trademark" pink guitar. The guitar has exquisite pink and white stained glass throughout the face and head. The fingerboard is made out of wavy stained glass with thin slivers of vertical mirror to create the artistic illusion of frets. The pick area is an authentic representation of Miranda's as Paul took an internet photo and used PhotoShop technology to enlarge and trace onto some textured, aluminum looking stained glass. Miranda's fingerboard detail with alternating frets of silver, geographic striping is also captured. It is Paul's hope that this guitar finds a home in Blake and Miranda's residence or office in the near future.
Currently Paul is developing technology to effectively create a light-box underneath the main face areas to enhance the coloration "pop" from using distinctive stained glass. Other construction considerations include gluing layers of plywood that results in thickness ranging from 1" - 1 ½" to assure that warping over time does not occur. Mounting brackets are flexible to allow various hanging angles that create additional visual interest besides traditional standard horizontal or vertical positioning.
Paul is looking forward to collaborating with clients who will treasure this unique "visual music" of Guitar Art. For more details visit website Guitars-4-Stars.com.