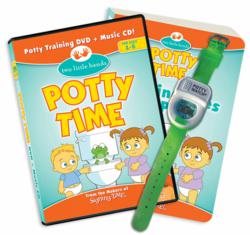 Potty Time has given my daughter the confidence she needs to potty train. This video is engaging and full of fun songs! Potty time has never been more fun. It took the stress out of training!
Salt Lake City, UT (PRWEB) April 04, 2012
Two Little Hands Productions is pleased to announce that the Potty Time "You Can Do It" Pack has been awarded the PTPA Winner's Seal of Approval. PTPA Media has North America's largest volunteer parent testing community, with over 40,000 parents and was rated the Most Trusted Seal by 22,000 parents. Consumers looking for high-quality products and services can rest assured when they see the PTPA Winner's Seal; it's evidence of a products excellence from having been evaluated by unbiased parent testers.
The Potty Time "You Can Do It" Pack was among many entries from across North America competing to earn the PTPA™ Seal. Independent parent volunteers evaluate products in their own homes to ensure that PTPA winners are chosen based on merit and consumer experience – not on commercial considerations. One Potty Time reviewer had this to say about the products: "Potty Time has given my daughter the confidence she needs to potty train. She's learning all about her body. This video is engaging and full of fun songs! My daughter loves to sit on her potty and sing along. Potty time has never been more fun. It took the stress out of training!"
The Seal of Approval from PTPA Media Inc. makes getting the word out about Potty Time much easier. "With the Parent Tested, Parent Approved name behind us, our customers can see that other parents, people just like them, have tried out the Potty Time products and found that they really work," said Rachel Coleman, co-founder of Two Little Hands Productions, creator of the Signing Time, Baby Signing Time and Potty Time products. "That's a huge benefit to us – and to our customers."
"At PTPA Media, we are proud to play a role in certifying innovative products that families can trust," says Sharon Vinderine, CEO and founder of PTPA Media Inc. "When consumers search for our Seal of Approval on product packaging and web sites, they are essentially searching for validation from their peers. Their peers will have objectively tested and approved these products based on their performance in a real life environment. That type of resource for families is priceless."
ABOUT TWO LITTLE HANDS PRODUCTIONS
Two Little Hands Productions is a leading publisher of innovative educational products that enhance children's learning and self-esteem, including the award-winning Signing Time, Baby Signing Time, and Potty Time programs featuring Emmy-nominated host, Rachel Coleman. http://www.twolittlehands.com
ABOUT PTPA MEDIA, INC.
PTPA Media provides an objective framework for appraising and promoting new products designed to enrich family living. The company's mission is to marry innovative companies with discerning consumers, to improve consumer access to quality products and services for their families and homes. http://www.ptpamedia.com