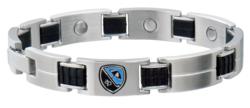 We also want to thank all of our customers that wear this bracelet; we wouldn't be able to donate to this great cause without them!
Sikeston, MO (PRWEB) April 11, 2012
Sabona of London, the premier marketer and manufacturer of copper and magnetic bracelets, is pleased to donate to the Prostate Cancer Foundation, from sales of one of their popular magnetic bracelets.
The Arnie's Army Battles Prostate Cancer Magnetic Bracelet features a stylish combination of brushed and polished stainless steel, a 1200 gauss magnet in each link, and the Arnie's Army Battles Prostate Cancer official logo.
"We designed this bracelet in the hopes that we could help in the fight of this disease. We are happy to be able to donate this year," says Jordan Myrick, Marketing Assistant for Sabona. "We also want to thank all of our customers that wear this bracelet; we wouldn't be able to donate to this great cause without them!"
To see the Arnie's Army Battles Prostate Cancer bracelet, visit http://www.sabona.com. To learn more about Prostate Cancer and this foundation, visit http://www.pcf.org
About Sabona of London Unlimited, Inc:
Sabona of London, Inc., established in 1959, has a long history as the premier manufacturer and marketer of copper and magnetic jewelry worldwide! The expanded Sabona product line includes Copper Magnetic Bracelets and Stainless Steel Magnetic Bracelets as well as Pro Magnetic Sport silicone wristbands and Sabona Athletic Bracelets, a line of fabric magnetic bracelets. In addition to magnetic bracelets, Sabona offers Copper Thread Supports, a line of supports for the knee, ankle, elbow, etc. that feature 5% copper thread in the fabric.
Contact:
info(at)sabona(dot)com
800-497-4199
http://www.sabona.com