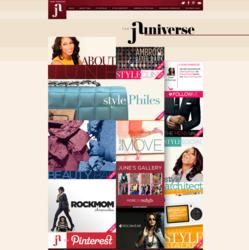 Our primary focus for the website was to create a fashion and lifestyle destination that was as bold and vibrant as June herself.
New York, NY (PRWEB) April 04, 2012
June Ambrose, celebrity stylist, has launched her new website http://www.thejuniverse.com with New York City interactive agency Built by the Factory. TheJuniverse.com is THE destination for audiences keyed into hot trends spanning all things lifestyle, beauty and fashion. "It is very important to June we keep fashion approachable & relatable. There's something for everyone in The Juniverse." says Dana Randall, Built by the Factory CEO. For the audience who appreciates fashion on the street and what June's spotting lately, there's StyleStalker. Need some fashion fixes? There's the StyleClinic. Want ideas and inspiration to be a glamorous mom? There's RockMom Chronicles. Men aren't ignored here; The Men's Vault is a section dedicated to men's fashion, style and attitude. The Ambrose AfterDark section covers nightlife, evening fashion, and hotspots. BeautyBar has products and make up tips galore.
June Ambrose's high level of social media engagement is also an integral part of TheJuniverse.com. With almost 400k Twitter followers, June has a strong following, she refers to these followers as her "StyleSocials". June has been engaging directly with her fans via Twitter giving style advice in response to their tweets, but now The Juniverse takes that one step further. Selected tweets are transformed into StyleClinic articles and drive the content selections of that portion of the site. Consider The Juniverse's StyleClinic the Dear Abby of Fashion!
Built by the Factory has taken the approach to include regular guest contributors and experts relevant to each of the website's content channels - you may even hear from a household name! TheJuniverse.com is not just about June, it's a platform for voices that can offer the best advice related to beauty, fashion, and lifestyle. June Ambrose will maintain the role as the Creative Director and Style Architect of The Juniverse with the editorial support of a dedicated team at BBTF.
TheJuniverse.com holds incredible potential for advertising and partnership opportunities. Have a new product or fashion line? Want to reach discerning fashionistas and stylist industry fans? Interested in sponsoring content? Contact us at juniverse(at)bbtfactory(dot)com
For more information visit http://thejuniverse.com
ABOUT BUILT BY THE FACTORY:
Built by the Factory was founded in 2009 by industry veterans Jeremy Davis & Dana Randall. With a modest beginning in a shared co-working cubical in TriBeCa, the agency has grown as a result of their work and professionalism. From inception, we have operated with a unified core value and have consistently carried this value out as we continue to grow. Always do exceptional work – great isn't good enough. While Built by the Factory is only beginning to become a familiar name in the digital community, our work has been recognized well beforehand. With more than 13 years of digital experience, BBTF brings boutique agency creativity and innovation paired with global agency expertise and client service. We bridge the gaps between strategic thinking, creative ideas, and technical execution. For more information, please visit http://www.builtbythefactory.com.