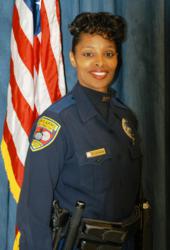 Orange Beach, AL (PRWEB) April 04, 2012
It may not have been the lottery, but Katrina Johnson of the Birmingham (Ala.) Police Department was ecstatic to hear she recently won a scholarship sponsored by Columbia Southern University (CSU) and the Alabama State Fraternal Order of Police.
"I was very excited when I received the news that I had won," said the 44-year-old wife and mother of three. "I was driving and had to pull over on a vacant lot to really hear that this was true. I wanted to get out and dance, but I kept my composure!"
Johnson, who resides in Birmingham, received the online scholarship with CSU based on her essay entry in the Next Step Law Enforcement Scholarship Program. The CSU/FOP scholarship, which is under the program, covers tuition for up to 24 months for one specific degree program with CSU, one the nation's top online universities.
"I had been seeking ways to fund my college tuition, and presently having a daughter who is attending Alabama State University was a big challenge for our family financially," Johnson explained.
She plans to use her CSU/FOP scholarship toward an online master's degree in criminal justice administration with CSU. The online university offers associate, bachelor's, master's and doctoral degree programs in various fields including occupational safety and health, human resource management and business administration.
"This degree will enhance my skills and abilities in law enforcement and benefit me as an officer, trainer, and career coordinator. This scholarship is going to give me one of the desires of my heart and I am ever grateful," she said.
Johnson is a member of the FOP, which is the world's largest organization of sworn law enforcement officers, with more than 325,000 members in more than 2,100 lodges.
If you would like learn more about CSU, please visit http://www.ColumbiaSouthern.edu.