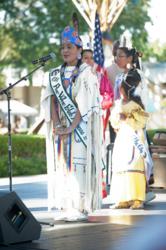 The Powwow is free and open to the public.
Oklahoma City, Oklahoma (PRWEB) April 05, 2012
The American Indian Association and United National Indian Tribal Youth, Inc. will host the first Rose State College Spring Contest Powwow on Saturday, April 21, 2012, from 2-11 p.m., in the Professional Training and Education Center on campus. The Powwow is free and open to the public.
Highlights of the powwow will be the free traditional powwow dinner at 5 p.m., hosted by Mary Lee Clark United Methodist Indian Church and the colorful Grand Entry at 7 p.m., led by the Seminole Nation of Oklahoma Color Guard. Immediately following the Grand Entry will be the crowning of the first American Indian Association princess.
Native American arts and crafts will be available along with vendors serving refreshments, and native dancers will compete for prize money.
The Rose State College campus is located in Midwest City, just off Interstate 40 and Hudiburg Drive. Parking is free and plentiful. For more information, call Mechelle Aitson-Roessler (736-0203) or Alan Neitzel (736-0347).