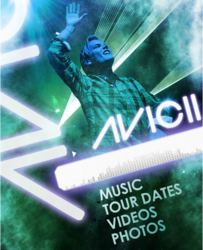 Los Angeles, California (PRWEB) April 05, 2012
HYPE Social Media, an emerging digital creative agency, was chosen by Avicii and his team, At Night, to create a unique multimedia experience by harmonizing all of his third party applications into his largest community platform – Facebook. HYPE created a Facebook application designed and developed to give fans a mirrored sensation of Avicii's music and live performances. "Avicii is all about music and HYPE delivered an efficient solution that allowed fans easy access to Avicii's fan related information from existing outlets onto one platform," stated Carl Vernersson of the At Night family.
As Avicii continues to produce music and perform around the world, his sound has been capturing the attention of the masses. From the time the application launched, Avicii has been able to offer a more interactive experience for his existing 900,000 fans and for the 600,000 that have joined his community since. Within the first month the application totaled 331,568 monthly active users', which has helped disseminate Avicii's multimedia through the Facebook platform. "We are thrilled with the ability to provide our fans with tour dates, videos, music, photos, and other relevant content without having to make additional updates on our end. Avicii wanted to offer his fans a more vibrant experience on Facebook and HYPE was able to craft the perfect solution," said Vernersson.
###
Avicii is a 22 year-old electronic dance music (EDM) producer and DJ from Stockholm, Sweden. He has released a number of worldwide hit singles since his debut 4 years ago. Most notably in 2011, Avicii released his single "Levels" which went on to reach the top ten charts in Croatia, Austria, Belgium, Australia, Denmark, Germany, Greece, Ireland, Italy, the Netherlands and the United Kingdom, and topped the charts in Hungary, Norway and Sweden. DJ Magazine ranks Avicii as No. 6 on the Top 100 DJs for 2011. Ultra Music Festival, Coachella, Electric Zoo and Electric Daisy Carnival music festivals are some of his most notable performances in the past year. Avicii just performed at Ultra Music Festival this past month in Miami, Florida and shocked the crowd with a surprise appearance by Madonna.
HYPE Social Media, a digital creative advertising agency based out of Los Angeles, California, offers complete digital marketing strategies, development, and execution for their clients. Adobe Systems, Honda, Toyota, Dole, and Marquee Las Vegas are a few of the brands HYPE has worked with. HYPE prides itself in helping brands become more inherently social with all of their marketing efforts. For more information, visit their website or Facebook page.