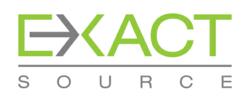 ExactSource, launched today by Matteson Partners, provides Recruitment Process Outsourcing (RPO) for companies that need to fill positions with exacting specifications.
Atlanta, Georgia (PRWEB) April 04, 2012
Matteson Partners, the Atlanta-based retained search firm, is broadening its reach as it forms a new subsidiary to compete in the RPO market. The new subsidiary, ExactSource, is targeting companies needing to fill positions with very specific skills and experience. The company's name, ExactSource, reflects the emphasis placed on sourcing, screening and hiring to exacting specifications.
ExactSource is building on a process and technology developed by Matteson over several years. "Many of our clients, particularly in Engineering and IT, struggled to find and fill positions with very specific skill requirements. They asked for our help, and in response we built a technology platform and a methodology that allows us to find and fill those positions - more quickly and cost effectively." said Jerry Schmidt, President of ExactSource and Senior Managing Partner at Matteson Partners. "Seeing both the demand from our clients, and our success helping them, it was a natural extension to form a separate company to focus on this opportunity."
ExactSource's proprietary web-based technology platform includes the ExactProfile, a system that measures and catalogues more than 114 skills and experience levels. These are critical skill sets and experiences that aren't typically identified in a resume. Candidates who complete the ExactProfile are entered in the ExactSource database and receive their own personal profile - a highly useful tool for demonstrating their proficiency and knowledge in a range of skills and disciplines.
For more information about ExactSource and the RPO services they provide, including their ExactTechnology platform, visit their new website (http://www.exactsource.com) or contact David Schmidt at 678.580.4514 or dschmidt(at)exactsource(dot)com.