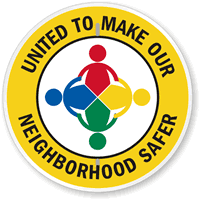 "When we designed the signs, we wanted to reinforce solidarity and community," said Blair Brewster, Creator of CrimeWatchSigns.com.
Brooklyn, NY (PRWEB) April 04, 2012
CrimeWatchSigns.com, a top online retailer of signs against crime, is launching a new line of Neighborhood Watch Signs as an inclusive approach to neighborhood watches. The signs are a non-threatening way to show that fighting crime is a community effort. Instead of aggressive anti-crime warnings, the new watch signs provide more pleasant, united messages against criminal behavior.
Neighborhood Watch Signs are a topical issue now more than ever before. The high-profile case of Trayvon Martin in Sanford, Florida brought neighborhood watches to national attention, as Martin's shooter had abused neighborhood watch privileges. According to a Nytimes.com article, Wendy Dorival, a police department coordinator for the region, said that the case has led to a bad impression about neighborhood watch programs. The intent of neighborhood watches is to strengthen local communities and help reduce crime.
The new line of signs encourages people to band together to stop crime and violence in neighborhood and community areas. The muted rainbow colors printed with 3m inks give signs a more appealing look than hostile slogans. The messages on the signs reflect CrimeWatchSign's intentions. "When we designed the signs, we wanted to reinforce solidarity and community," said Blair Brewster, Creator of CrimeWatchSigns.com. "Reporting suspicious activity does not have to be an individual endeavor. The messages provide comfort and also show criminals that keeping the neighborhood safe is a joint effort."
CrimeWatchSign's expansive selection is sure to satisfy any customer's needs. Buyers can find signs and stickers for many different communities and businesses. Additionally, the site encourages shoppers to take advantage of customizable templates and add in personal text and graphics. This is especially useful for writing the name of a specific police department or neighborhood, or urging vandals to stay away.
The brand new signs have staying power. The signs are comprised of heavy-duty aluminum, and are rust-free and tamper-proof. CrimeWatchSigns offers signs in three grades of reflectivity, enabling signs to stand out from miles away even in the dark. Convenience is key, and many of the signs include two pre-drilled holes for effortless mounting.
The new Neighborhood Watch Signs can be found at http://www.crimewatchsigns.com/neighborhood-watch-signs
###
About CrimeWatchSigns.com
CrimeWatchSigns is the leading distributor of signs to protect neighborhoods and communities. From Bilingual to Neighborhood Crime Watch Signs, the site offers hundreds of signs to help prevent crime. In addition, customers can customize their own neighborhood sign in minutes.
About SmartSign
SmartSign is one of America's fastest growing e-commerce companies and parent of http://www.MySafetySign.com, http://www.CrimeWatchSigns.com, as well as over 50 other sites. Traditionally, signs with the right message have been hard-to-find, hard-to-design and hard-to-order. By positioning "Signs as Solutions", SmartSign has taken an entirely different approach. Through highly targeted, yet content-rich and authoritative sites, the company provides specific solutions to specific problems - such as keeping your neighborhood free of crime. "We take the agony out of finding and ordering your perfect sign" - Blair Brewster, SmartSign founder. Couple this with fast and free shipping, 3M warrantied signs that outlast fast-fading ink jet signs from competitors, the web's largest range of designs and a best price guarantee, it is easy to see why SmartSign has grown so quickly.
Check out the company's blog to learn about how signs relate to everyday life matters at: http://www.smartsign.com/blog/.
###