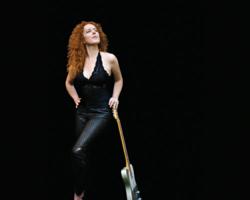 Scarsdale, New York (PRWEB) April 05, 2012
Stop living for the weekends. FIG & OLIVE WESTCHESTER is rolling out two new reasons to love weekdays, with special offers that make a delicious night out an easy decision. First, a new "Happy Tuesdays" menu will feature favorite shared plates and wines at reduced prices. Then on Wednesdays, the soulful stylings of singer/guitarist Kirsten Thien will help to cruise over hump day. Both events launch the second week of April.
"We always strive to offer our guest the best possible experience by listening to what they want," said Ludo Barras, FIG & OLIVE marketing director. "These events are exactly what people have been looking for during the week, and we are eager, as always, to make sure they not only have a spectacular meal, but also enjoy the atmosphere."
Fresh off a European tour, Kirsten is poised to win over audiences at FIG & OLIVE WESTCHESTER. Her latest CD release, Delicious, has critics raving about her soulful and slightly raspy voice, making comparisons to Keb' Mo' and Sheryl Crow.
As part of the residency, Kirsten will perform as a duo with some of her favorite artists. These include Tommy Mandel on keyboard, whom has played with Chrissie Hynde, Bryan Adams, and Dire Straits; and NYC Blues Hall of Famer Arthur Neilson on guitar, who has shared the stage with B.B. King, Buddy Guy, and Albert King among others; and pop/folk chanteuse Galia Arad, with whom anything is possible. Performances will run from 7 p.m. to 10 p.m. on Wednesdays April 11, 18, and 25. Listen to Kirsten's music at http://kirstenthien.com.
In addition to Wednesday's live music, patrons are invited to FIG & OLIVE WESTCHESTER's "Happy Tuesdays," which feature popular shared plates and wines at reduced prices. Patrons will be tempted by seasonal favorites including Crostini Tastings, Piedmont Mushroom and Truffle Soup, Yellow Fin Tuna Carpaccio, Mediterranean Chicken Samoa, and for desert, the Fig Gorgonzola Tartlet. But don't forget to pair these delicious plates with fine wines. The wine list includes over 30 selections from France, Italy, and Spain, which are offered by the glass or bottle.
FIG & OLIVE is located in the Vernon Hills Shopping Center, 696 White Plains Road, Scarsdale, N.Y. Lunch: 12pm – 3:30pm. Dinner: 5pm – 10pm (M-TH), 5pm – 11pm (F). Reservations recommended. For more information, please visit http://www.figandolive.com or call 914-725-2900.
For more information or to schedule interviews, please contact Diana Costello of Co-Communications at 914-666-0066 or diana (at) cocommunications (dot) com.