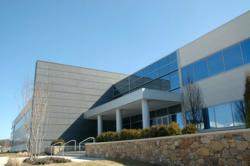 Our new office provides us the physical platform for serving our clients at the highest possible level, and we are thrilled, said Jon Seitz
Blue Bell, PA (PRWEB) April 05, 2012
MayoSeitz Media has moved its headquarters to a new business complex, Arborcrest, adjacent to Unisys in Blue Bell, PA. The new address is Hillcrest 1, 751 Arbor Way, Suite 130 Blue Bell, PA 19422. In addition they announced a new logo and overall branding.
"We enjoyed our years in our old office and have wonderful memories of our growth and maturation as a business in our previous locations. We simply outgrew our space and the move to new offices afforded us the opportunity for additional technology, space and areas for collaboration," said Ray Mayo, Co-Founder, and Managing Director.
"Our new office provides us the physical platform for serving our clients at the highest possible level, and we are thrilled," said Jon Seitz, Co-Founder, and Managing Director. "Furthermore given our move we also decided it was an opportunity to freshen our graphic identity with a refreshed logo and graphics. Our logo meshes with our new decor and is more contemporary. We will also be updated our web site in the coming weeks to increase our focus on the changing media landscape and ways our clients can benefit from the changes," added Jon Seitz.
About MayoSeitz Media
MayoSeitz Media is one of the leading independent media agencies in the United States. Its sole focus is to deliver media planning, strategic and media execution at the highest level. MayoSeitz Media is also one of a handful of independent media agencies to qualify and be accepted to the American Association of Advertising Agencies (4As), the leading industry association. Fewer than 10% of all agencies are 4As members, yet 4As members place 80% of all media placed by agencies throughout the United States. MayoSeitz Media clients include Subway, Virtua, Dietz & Watson, Comcast SportsNet, Philadelphia Phillies, Penn Medicine, Greater Philadelphia Tourism, Hershey Entertainment & Resorts, Sunoco and Trex, among many others. For more information please visit http://www.mayoseitzmedia.com or visit the MayoSeitz Media Monitor blog, http://www.mayoseitzmediamonitor.com
Contact:
Jon Seitz
215-641-8700 x107