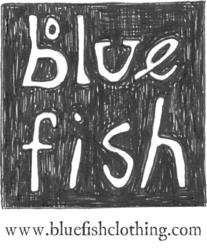 "Thanks to you we're celebrating 25 years of Blue Fish -- organic clothing proudly designed and made in the USA.."
Frenchtown, NJ (PRWEB) April 05, 2012
In honor of Blue Fish Clothing company's 25th Anniversary, a Gala Open House will be held in the company's 19th century Frenchtown stone mill shop and studio, 62 Trenton Avenue, on Friday, April 20th from 6:00 pm to 9:00pm. This event is open to the public.
Wearing Blue Fish clothing can be a transforming experience, and many customers build their wardrobes around Blue Fish designs; some even wear Blue Fish exclusively. Dedicated Blue Fish customers from the tri-state area are expected to attend this event to share their Blue Fish stories and see what's new at Blue Fish. Special events include the opportunity to participate in a professional photo shoot, meet Jennifer Barclay and the artists, tour the printing studio and preview the newest collection. Delicious refreshments from local businesses will be served.
All attendees to the Blue Fish 25th Anniversary celebration will receive special offers on limited edition clothing from the newest collection and special sale markdowns, available exclusively at the event. Attendees can enter to win one of 4 Blue Fish Gift Certificates. Blue Fish will donate $5 per customer name entered to the Hunterdon Arts Museum.
The celebration will continue throughout the weekend with a special anniversary sale. Store hours will be from 10:00 a.m. to 6:00 p.m Saturday April 21 and Sunday April 22. Owner/Designer Jennifer Barclay will be present throughout this special event.
About Blue Fish Clothing Company
In 1986, Blue Fish founder Jennifer Barclay decided to design clothing that made her feel comfortable, stylish and happy. She quickly realized that many women wanted the same thing. Her playful, vibrant and artistic style of clothing became popular throughout the country.
Blue Fish clothing is easy-to-wear artistic clothing that is inspiring, creative, fresh and unique, with styles that appeal to every age, shape and body style. Season after season, year after year, styles and patterns work together, enabling wearers to build a functional collection. At Blue Fish, quality organic fibers, recycled cottons and other natural fabrics are designed into timeless styles that last and never go out of style. Customers treasure each piece. All Blue Fish clothing is designed and made in the USA and local artisans hand print each piece.
Jennifer and her family moved to Fairfield, IA a couple of years ago. Fairfield, Iowa was featured in "Oprah's Next Chapter," which aired March 25th on the Oprah Winfrey Network, as one of the "safest, greenest and most unusual communities in America." Blue Fish is happy to announce the relocation of their headquarters and a new retail location in downtown Fairfield in summer 2012.
The original Frenchtown shop, located in an historic stone mill, opened in June, 1987. Both the Fairfield and Frenchtown locations employ local artisans who hand-print each piece of clothing. The Blue Fish Taos, New Mexico store will re-open in the coming year to host Blue Fish's third location.
Blue Fish Founder and Designer Jennifer Barclay will be available for interviews by appointment __title__ blue fish clothing]