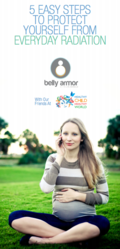 There is a growing concern about the potential effects that microwave radiation exposure can have on a child.
New York, NY (PRWEB) April 04, 2012
Belly Armor, the leading authoritative resource for information and products to reduce the health risks from everyday radiation for expectant mothers, children and families, announces it has partnered with the not-for-profit organization, Healthy Child Healthy World (Healthy Child), to inspire parents to protect children from environmental and chemical hazards.
Aiming to increase awareness for health concerns caused by non-ionizing radiation and create new global standards for the utilization of radiation-emitting devices and technology, Belly Armor will work closely with Healthy Child Healthy World to give parents the tools they need to reduce daily exposure. Belly Armor will have a dedicated page on Healthy Child Healthy World's website, http://www.healthychild.org, which will feature a special educational brochure outlining the causes and effects of non-ionizing radiation, how it is emitted, and protective measures for expectant mothers and children. The brochure is available for download here: http://healthychild.org/live-healthy/shop-healthy/retailer/belly_armor/.
The page will also feature links to Belly Armor's website and the brand's collection of products, which are designed to protect the body comfortably, conveniently and safely. Belly Armor's t-shirts, maternity bands and blankets are integrated with the advanced technology of RadiaShield® Fabric, a conductive silver-based textile that has the same shielding effectiveness as a quarter-inch thick sheet of aluminum. RadiaShield® fabric has been tested by FCC-certified laboratories and is proven to have over 99% shielding effectiveness against the range of everyday radiation.
In addition, Belly Armor will be an active participant in other Healthy Child Healthy World mobile, social media and consumer outreach initiatives. "Belly Armor and Healthy Child Healthy World have a shared goal to educate, engage and empower parents to make informed choices that will create safer, healthier environments for children, and this partnership will enable Belly Armor to reach a broad range of parents on the risks of everyday radiation," says Aileen Chen, Belly Armor CEO.
"We have found that there is a growing concern among parents about the potential effects that microwave radiation exposure can have on an unborn fetus or young child during those crucial stages of development," says Rachel Lincoln Sarnoff, Executive Director at Healthy Child Healthy World. "We are proud to work with partners like Belly Armor that address these concerns through education and safe, easy-to-use solutions. Because the fact of the matter is that laptops and cell phones are an essential part of everyday life—they are not going anywhere. We believe in practicing caution for our children and unborn babies."
About Belly Armor
Belly Armor by RadiaShield is the definitive resource for information and tools to protect your child against the risks of everyday radiation. Made with RadiaShield® Fabric and the highest quality textiles, Belly Armor products provide stylish comfort, convenient safety, and reliable protection. Belly Armor products are available online at http://www.bellyarmor.com and through retailers across the country.
About Healthy Child Healthy World
Healthy Child Healthy World began after five-year-old Colette Chuda died of a rare form of non-hereditary cancer linked to environmental factors; her parents, Jim and Nancy Chuda, turned their grief into action and formed Healthy Child Healthy World (formerly the Children's Health Environmental Coalition) in 1992.
Today, millions of America's children face a historically unprecedented rise in chronic disease and illness such as cancer, autism, asthma, birth defects, and learning disabilities. Credible scientific evidence increasingly points to contaminants in our environment and chemicals in everyday products as causing and contributing to many of these diseases. Playing a leadership role in one of the most important public health and environmental movements of the 21st century, Healthy Child Healthy World, a national, non-profit 501(c) 3 organization headquartered in Los Angeles, ignites the movement that empowers parents to protect children from harmful chemicals. http://www.healthychild.org.