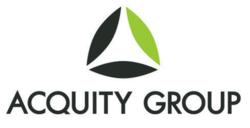 (PRWEB) April 04, 2012
Acquity Group LLC, a leading global Brand eCommerce™ and digital marketing company, announced today that it has recently expanded its Seattle office to accommodate strong growth in the region. The new location will support a rapidly expanding client roster that includes major global brands, such as Tommy Bahama and Intermec.
As the fastest growing office in Acquity Group history, the company expects to more than double its employee headcount in Seattle as more global companies enlist Acquity Group's expertise to develop congruent cross-channel brand identities that meet the needs of today's digital consumer.
"Consumers are interacting with brands through a variety of traditional and digital avenues, often simultaneously, and they expect a seamless experience on every level of engagement," said Loren Kaneshige, Client Partner at Acquity Group. "Our exceptional talent, deep understanding of digital consumers, and thriving client base has allowed us to become a dominant force in the Seattle market."
Acquity Group's cutting-edge digital services, a blend of functional technology and creative design known as Brand eCommerce™, have also been in high demand among global companies interested in launching in new international markets or channels.
"As a global hub for technology, telecommunications, and retail, Seattle aligns extremely well with our service offerings," said Andy Peebler, Executive Vice President with Acquity Group. "I am confident this expansion will be the first of many and serve as a stepping stone for future geographic expansion in the region and beyond."
The bolstered Seattle presence will support Acquity Group's continued growth throughout the Northwestern United States and Canada. Throughout 2012, Acquity Group will invest significantly in local talent, adding staff with expertise in strategy, development, technology, and project management, to augment its existing team in Seattle.
About Acquity Group LLC:
Acquity Group is a leading global Brand eCommerce™ and digital marketing company, creating award-winning digital experiences for global brands. Our multi-disciplinary approach brings together strategy, design, and technology to create brand-unique experiences that build unbreakable customer relationships. Acquity Group works with leading brands like Adobe, AT&T, General Motors, Motorola, and Saks Fifth Avenue through offices in North America and Asia.