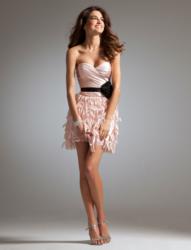 We're happy to do everything we can to make the American consumer more aware of these knock-off sites
Philadelphia, PA (PRWEB) April 05, 2012
Promgirl.net has recently joined forces with a number of other established and respected online prom dress retailers to help combat the increasing number of knock-off designer gowns being sold to young women throughout the United States. Promgirl.net has received the official seal of Top Prom Websites, a consumer advocacy group dedicated to stopping the influx of counterfeit prom dresses that cost designers millions of dollars in sales each year and have been responsible for the loss of countless American jobs.
In the 21st century the internet has changed the way that we shop for everything from groceries to cars, and for the most part these changes have benefited both manufacturers and the consumers searching for their products. However in recent years a disturbing trend has been taking place in the prom fashion industry, mysterious online boutiques have been springing up in a number of third world countries far beyond the reach of American and European copyright laws. These sites claim to carry dresses by popular designers like Jovani, Scala, Clarisse and Tony Bowls, yet the prices of their dresses are far lower than any other online retailer is able to offer. This is because the dresses that these boutiques are selling are not authentic designer products but rather cheaply made knock-offs designed based on the photographs each designer makes available for their authorized internet retailers.
According to Top Prom Websites in 2011 these knock-off websites cost US prom designers over $10 million in sales and have made the market a much less friendly place for retailers selling genuine designer dresses. Promgirl.net has joined Top Prom Websites in their effort to combat these knock-off sites by requesting Google remove sites containing designer's images that have been used without their consent and by educating consumers on how to spot knock-off websites.
"We're happy to do everything we can to make the American consumer more aware of these knock-off sites," Said Sunny Adrian President of Promgirl.net. When asked what tips he would give consumers to help spot knock-off sites Mr. Adrian replied "the first thing they should do is compare price, if they see the same dress for $300 on five different websites and then come across a sixth selling it for $50, that is a sign that something is not right. Also remember to check manufacturer's websites; all of the designers offered by Promgirl.net give lists of their authorized retailers on their websites. Another thing to check for is the return policy, most online retailers will at least allow you to exchange if not return the item, if the site doesn't allow either that's a bad sign. And always remember the old saying, 'if it looks too good to be true, it probably is'"
The real threat of these online knock-off websites goes beyond lost profits, lost jobs and young women having their prom nights ruined after receiving poorly made knock-off gowns. Many within the industry and in the human rights community worry that these knock-off dresses are manufactured in illegally operated factories that may not adhere to environmental safety standards or worst of all use workforces comprised of child labor.
Promgirl.net is a etailer of prom dresses and formal gowns located in Philadelphia and operating Internet websites since 1999.