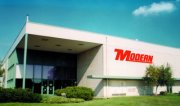 Modern had already been one of the leading Bandit dealers in the U.S. and we are proud to represent their products in the expanded geography, said Paul Farrell
Bristol, PA (PRWEB) April 05, 2012
Modern Group, a leading distributor of construction, material handling and power generation products, announced that effective immediately Bandit Industries, a leading supplier of brush chippers and stump grinders, has awarded additional territory to the Modern Group. The Modern Group had already handled sales in the 5-county Philadelphia region, and in Central New Jersey. Modern's new responsibilities and territories will include Bandit sales, parts & service throughout Southern New Jersey which includes Burlington, Mercer, Ocean, Camden, Gloucester, Salem, Cumberland, Cape May and Atlantic counties.
"We are extremely excited that Modern will now be handling this new area and are confident that Modern will succeed with an expanded relationship," said Jason Morey, Sales Manager, Bandit Industries.
"Modern had already been one of the leading Bandit dealers in the U.S. and we are proud to represent their products in the expanded geography," said Paul Farrell, COO, Modern Group. "Bandit has long been an important product line to the Modern Group. We will continue to take care of existing customers in Central New Jersey and Eastern Pennsylvania as we expand our efforts in Southern New Jersey. Our sales effort will be led by Bob Pelouze as the Field Sales Manager and Paul Van Nocker as the Bandit Product Support and Service Manager," he added.
About Bandit Industries
Bandit Industries, Inc. is one of the largest manufacturers and suppliers of hand-fed brush and wood chippers, whole tree chippers, and stump grinders. For more information visit, http://www.banditchippers.com
About Modern Group
With more than $100 million of collective annual sales, Modern Group provides sales, leasing, short-term rental, service, parts, training and financing solutions through its Forklifts, Power Systems, Construction, and Warehouse Products businesses. Modern is a 100% employee-owned ESOP with more than 350 owners at ten locations serving Pennsylvania, New Jersey, Delaware and New York. For more information, visit http://www.moderngroup.com
Contact
Paul Farrell
Modern Group
800-866-3376