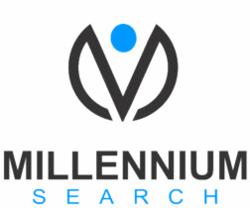 Charlotte, NC (PRWEB) April 04, 2012
Millennium Search today announced that it has closed several new positions at EmPower Research in the areas of sales and business development. EmPower Research, a leading provider of media and business research solutions to global B2C and B2B brands had partnered with Millennium Search to expand its U.S. regional team earlier this year.
"We see tremendous growth prospects in the business we are in," said Debjani Deb, Managing Partner at EmPower Research. "However, we cannot address such opportunities without the right talent, experience and skills. We are very pleased with the speed and quality of hiring services that Millennium Search has delivered."
Mark Cergol, Millennium Search Senior Recruiter said, "Our search process ensured that there was absolutely no ambiguity on both sides in the type of people and skills that we needed to onboard for EmPower. As always, we laid great impetus on consistent communication with our client that helped us to zero in on the right set of candidates from our vast network and database."
Millennium Search has recruiting solutions ranging from individual contributor to C-level roles in all business areas. It has an enviable track record of 100 percent success rate on retained and exclusive searches.
Amish Shah, CEO of Millennium Search says, "We work with cutting edge companies that are growing in today's marketplace and C-Level management turns to us when they need the job done."
Cergol added, "We ensure that our executive search processes are reviewed for improvements on a regular basis. Acting on feedback from our clients and candidates has helped us immensely to improve success rates and client satisfaction. This has been the key success factor in our relationship with EmPower Research."
About EmPower Research
EmPower Research, a Genpact company, is an integrated media and business research company headquartered in New York. The company helps clients understand stakeholder perceptions and needs, empowering them to service their customers better. EmPower Research uses proprietary methodologies to enable clients to listen and learn about conversations within their organization, deriving insights for active stakeholder engagement. Unlike other listening solution providers, EmPower Research combines its technological capabilities with human intelligence to deliver actionable, customized insights. EmPower Research was named as a Listening Services Partner by Forrester Research in its Listening Platform Landscape Report. For more information, visit http://www.empowerresearch.com.
About Millennium Search
Millennium Search is a boutique executive search firm dedicated to the ethical, rapid and successful placement of top-tiered talent in start-ups backed by top VC's like Greylock Partners, Index Ventures, Accel Partners and Union Square Ventures to Fortune 500 technology companies worldwide. The company's stated mission is to provide a match that will result in success and growth for both the client and the candidate. For more information visit http://www.msearchllc.com.
# # #