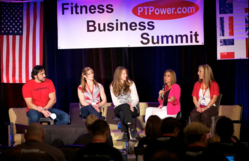 "Personal Trainers Are Professionals and Deserve to earn professional level Income"
Chino Hills, CA (PRWEB) April 05, 2012
Strategic marketing is the road to success in any business. Many fitness entrepreneurs start a training business but don't know how to generate successful leads and convert them into clients. "I've been there, fighting to keep my business alive. I've been through the trenches and I know what works and what doesn't. This is why I developed a rock solid fitness marketing plan for other personal trainers to use," says the founder of PTPower.com, Bedros Keuilian.
PTPower.com was founded in 2008 and is ranked as the #1 fitness marketing resource site on the Internet. The site provides invaluable information for personal trainers and fitness entrepreneurs who want to take their business to the next level. Bedros's methods have a proven track record that not only shows in his personal success but in the success of those who have implemented his plan.
"One of the first steps in developing a rock solid fitness marketing plan is to have a checklist; a fitness marketing plan checklist. This is your guide to a rock solid plan," adds Bedros. Successful fitness professionals have a diversified marketing plan that is their bible. For most business owners marketing and lead generation is typically an afterthought and something that is done in a hurry or by the seat of their pants. When a fitness marketing plan checklist is in place and systematically deployed, there is no flying by the seat of your pants.
The key to creating a successful personal trainer marketing plan for fitness professionals is to ensure the plan works for their business and for their area. This is something Bedros makes perfectly clear in his selling strategies. "Some strategies are simply not going to work in your area. It won't matter what fitness marketing plan you have implemented if the strategy isn't connecting with the customers. If it isn't generating leads it is worthless," comments Bedros.
Bedros instills the ABC's (Always Be Creating) of fitness marketing in his plan and stresses the same methodology to fitness professionals he coaches. He states there are two things you should always be creating if you want to make money in your business: leads and promotions. "The fitness industry is always changing and your marketing strategies will change with it. If you are not creating leads and promotions then you are basically referring clients to your competitors," Bedros states. "Expectations change and your marketing should reflect those changes."
Fitness marketing has to be strategic and each fitness professional needs a successful fitness marketing plan if he or she wants to be in the six and seven figure arena. Developing a plan isn't difficult but it takes perseverance, consistency, and proven methods. If you are ready to be a part of the six and seven figure income bracket and want more information about these proven methods, then take a look at Bedros's bullet proof fitness marketing plan at PTPower.com
To find out more about Bedros Keuilian, his company PTPower.com and the Fitness Boot Camp Franchise Fit Body Boot Camp, contact Bedros Keuilian at (800) 261-0208. Alternatively you may use the contact form at http://ptpower.com/contact-me/ or send an email to Bedros Keuilian at support(at)keuilian(dot)com.