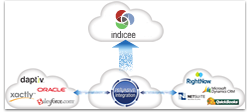 Together, Indicee and Pervasive give customers a comprehensive solution to process and analyze ever-growing volumes and varieties of data
Vancouver, BC (PRWEB) April 10, 2012
Indicee Inc. ("Indicee"), the leading cloud business intelligence platform has announced a partnership with global cloud integration provider Pervasive Software ("Pervasive") to give customers and prospects rapid access to Indicee analytics in the cloud with Pervasive's full range of cloud and on-premises data connectivity.
Using the new Indicee Connector customers can be up and running with a full analytics solution in just days. Where traditional BI tools require lengthy projects to build out each stage of the BI process, Indicee is a complete, end-to-end solution, from data upload and storage to data modelling, reporting and dashboarding. Today's announcement means easy connection to the Indicee service leveraging any of the hundreds of data connectors already supported by Pervasive. And with BI and analytics ranked as a top technology priority for CIOs in 2012 by industry analysts, it could not have come at a better time.
"Organizations of all sizes are looking to unlock the value of their data through rapid, affordable analytics," said Lance Speck, Pervasive Software General Manager of Integration Products. "Together, Indicee and Pervasive give customers a comprehensive solution to process and analyze ever-growing volumes and increasing varieties of data."
The partnership provides Indicee customers with a wide range of options for integrating their data. Organizations using Indicee can now automatically pull data from any source, cloud-based or on-premise, for immediate analysis within the Indicee app.
"Indicee is committed to breaking down adoption barriers created by the enterprise BI community. Our cloud BI solution is the most agile way to roll out reporting and analytics," said Mark Cunningham, Founder and CEO, Indicee. "Our partnership with Pervasive extends this commitment to agility to our data integration options. Our customers can now solve the data integration aspect of BI very quickly and without any development."
Mark Cunningham will join a panel of experts at Pervasive IntegrationWorld – North America on May 1, 2012, to discuss how organizations can enhance their customer experience through integration. The panel will be moderated by GigaOM analyst Jo Maitland.
About Indicee
Indicee is leading the shift from complex, expensive Business Intelligence (BI) software to agile cloud-based services that can quickly bring data together from many sources and deliver the answers that businesses need.
Backed by Granite Ventures and Yaletown Ventures, Indicee's Cloud BI Platform was built from the ground up by business intelligence industry visionaries from Crystal Services and Business Objects. The team designed Indicee after experiencing the path BI had taken from accessible solutions to complex software suites only armies of developers and analysts could deliver.
For additional information, go to http://www.indicee.com or find Indicee on Twitter @indicee.
About Pervasive Software
Pervasive is a global data innovation leader, delivering software to manage, integrate and analyze data, in the cloud or on-premises, throughout the entire data lifecycle. Pervasive products deliver value to tens of thousands of customers worldwide, often embedded within partners' software, with breakthrough performance, flexibility, reliability and return on investment.
For additional information, go to http://www.pervasive.com