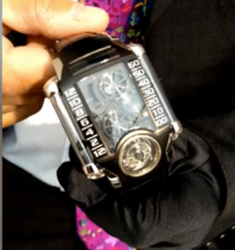 You have a [flying] tourbillon and two bars, one for the tourbillon and one for the mechanism of magnetism
(PRWEB) April 04, 2012
Haute Time, the ultimate resource for luxury timepiece aficionados, is flooded with new content from Basel World 2012, including exclusive videos of the latest in haute timepieces. Haute Living Co-publisher and Haute Time curator Seth Semilof had the pleasure of meeting Christophe Claret, who introduced Semilof to the X-TREM-1.
"You have a [flying] tourbillon and two bars, one for the tourbillon and one for the mechanism of magnetism," explained Claret. The rectangular-shaped watch features two steel spheres within sapphire tubes on both sides of the caseband to indicate hours and minutes, and bears similarities to the Porsche 911, Claret's wheels of choice.
For one year, Claret and his team worked with an engineering professor to manufacture the innovative timepiece, of which only eight were produced. "For me it is very important to come up every year with a new watch," said Claret. The presentation at Basel World 2013 will be a little different than the $250,000 X-TREM-1, though. "Next year we will come up with low price watches," divulged Claret.
Gaining an inside look at the industry's star timepieces directly from the company CEOs demonstrates the respect and passion Haute Time reserves for luxury watches and their corresponding brands. Check out the X-TREM-1 watch here and explore the many wonders of Basel World 2012 at http://www.HauteTime.com.
http://www.hautetime.com/feature/haute-time-presents-christophe-claret-and-his-x-trem-1-watch-at-basel-world
About Haute Time
Haute Time curators realize that luxury watches are more than style statements; they're representative of an individual's personality, aesthetic and attitude. The site features the most recent news in all things time, including new releases from the top brands, interviews with those helming these upscale watchmakers and a watch locator, which provides site visitors with authorized retailers nearby to them. Hautetime.com is frequently revised to reflect the latest in news, collections and brands, including Ulysse Nardin, Bell & Ross, Omega and beyond. Our experts regularly review the latest pieces and happenings in the market, including updates from Patek Philippe and Audemars Piguet.
# # #
For more information, please visit: http://www.hautetime.com