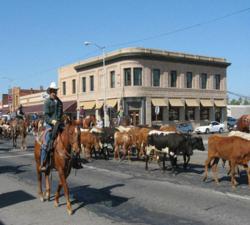 "It's one of only three events like this left in the country, a big part of what life used to be like is quickly vanishing. Chowchilla is one of the last spots for new generations to experience it."
Chowchilla, CA (PRWEB) April 03, 2012
Stampede headed for Chowchilla
In what is one of the most unique sites one can imagine, an annual event in the city of Chowchilla will see several dozen heads of cattle walking down the city's main street.
It's a stampede, but in name only; the cattle are carefully controlled by the cowboys and cowgirls of the annual Chowchilla Western Stampede rodeo, taking place in this city at the junction of southern and northern California for the past 55 years.
The cattle drive down Robertson Boulevard marks the start of the annual event that draws some of the top competitors in roping events to Chowchilla.
"It really is something special to see," said Jarrod Lyman with the Yosemite Sierra Visitors Bureau which promotes Madera County and the southern Yosemite area; Chowchilla is in the western half of the county.
"It's one of only three events like this left in the country, a big part of what life used to be like is quickly vanishing. Chowchilla is one of the last spots for new generations to experience it."
Starting with the cattle drive at about 10 am on April 11, the annual Chowchilla Western Stampede brings in some of the most talented ropers in the sport of rodeo. They will be competing in various roping events, as well as barrel racing and gymkhana events for kids from April 12 through April 15.
With the exception of the cattle drive, all events take place at the Chowchilla Fairgrounds' indoor arena located at 1000 South Third Street.
For more information, call 559-288-4086 or visit the Chowchilla District Chamber of Commerce's website at http://www.ci.chowchilla.ca.us/chamber/chamber_main.htm.
Jarrod Lyman
Director of Media
Yosemite Sierra Visitors Bureau
(559) 683-4636