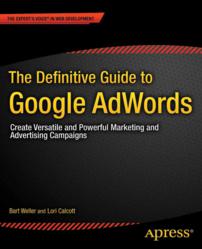 Aspen, CO (PRWEB) April 16, 2012
webShine is excited to announce a soon to be released publication co-authored by one of their founding partners, Lori Calcott. The Definitive Guide to AdWords: Create Versatile and Powerful Marketing and Advertising Campaigns is set to be released by the technical book publishing firm Apress, Inc. in late April, and walks both newbies and experienced users through the process of creating and optimizing AdWords campaigns, as well using Google Analytics to gauge the success of online ad campaigns.
Advertising on Google and its Search and Display Networks is an effective way to reach a wide range of customers. However, understanding the AdWords interface and the intricacies involved in a successful campaign takes guidance to get right. The Definitive Guide to AdWords helps users new to the interface while highlighting details that only an experienced user would know.
The Definitive Guide to AdWords covers the following topics:

Overview of internet marketing technology, and more specifically what Pay-per-Click (PPC) and Search Engine Marketing (SEM) are all about.
Explanation of the basic terminology, how cost is determined on the Search and Display Networks, how the auction process works, and the basic structure of an AdWords account.
The importance of setting goals to measure the success of your AdWords marketing efforts.
The process of creating an AdWords campaign and using AdWords Editor and AdWords Express.
How to set campaigns to target specific locations, whether at the ZIP code, city, state, national, or international levels. The book also covers language settings, location-based ad text, and interpreting geographic data.
Finding the right keywords at the right time for the right audience.
Writing effective ads and the elements of a well-performing landing page.
Advertising on the Display Network and the various targeting options available.
Creating mobile specific campaigns and websites.
Best practices for optimizing campaigns, more specifically where to find the data needed to make intelligent decisions about changes to your campaigns.
Using Google Analytics to find user-centric data to optimize your account.
Creating more effective landing pages through the use of Google Website Optimizer.
Lori Calcott is a paid search expert and has been working in the paid search space since 2001. Her co-author on the project is Bart Weller is a software developer and consultant specializing in object-oriented development and author of Beginning SQL Server Modeling: Model-Driven Application Development in SQL Server 2008.
The Definitive Guide to AdWords is currently available for pre-order through Apress. For a review copy of the book contact Brandon Levesque.
webShine, http://www.webshine.com, is a search marketing business created by Lori Calcott and Lindsay Reither that focuses on helping businesses increase revenues through online visibility. webShine creates custom solutions unique to each customer to provide high-value search marketing.