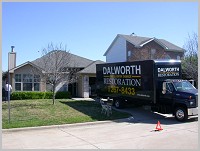 Dalworth Restoration dispatches emergency disaster recovery crews following multiple Dallas Fort Worth tornados on Tuesday, April 3, 2012. The company is ready to provide residential and commercial tornado water damage restoration services.
(PRWEB) April 03, 2012
Dalworth Restoration professional water damage and flood cleanup crews are on high alert following the thrashing unleashed on the Dallas Fort Worth metroplex on April 3, 2012, with multiple tornado touchdowns wrecking havoc on the ground. Several counties have been adversely affected when tornadoes ripped through them with massive winds, large hail and unyielding rain. Power lines were knocked down in some neighborhoods and large pieces of debris were tossed through the air. Powerful gusts of wind callously twirled heavy metal cargo trailers before smashing them into the ground as if they weighed nothing. Many rooftops were blown off houses and windows were shattered, exposing furniture and other content to the merciless rain. Property damage has been severe and widespread throughout the Dallas Fort Worth metroplex, leading the mayor of Arlington to declare a state of disaster for the city. Although there is no estimate on the mass destruction yet, tornado damage repair throughout the metroplex is likely to be assessed in the millions.
The tornadoes that tore through the Dallas metroplex struck forcefully, reaching 50-60 mph winds that tore down and destroyed everything in their path. Heavy rains contributed to massive flooding and water damages to homes, schools and vehicles throughout Dallas, Fort Worth, Arlington, Irving, Cleburne, Garland, Forney, Lancaster, and Sunnyvale, among others. As multiple tornados struck the metroplex, causing severe property damage, Dalworth Restoration responded by sending out trained personnel and trucks with disaster recovery equipment to help residential and commercial clients with flood cleanup and water damage restoration efforts. The heavy duty, industrial strength equipment includes water extraction units, flood pumping units, drying fans, dehumidifiers, descants, and generators.
Dalworth Restoration has monitored events as they unfolded in this horrifying tornado storm and recommends that individuals as well as businesses contact water damage restoration professionals as soon as possible for assistance on minimizing property flood water damages as well as to make sure tornado damage repair resources are available when needed. Dalworth Restoration has the following advice for affected individuals and businesses following tornado damage:

Stay out of tornado damaged structures until authorities declare they are safe to enter
Enter tornado damaged buildings cautiously, as structures may be unstable
Check for broken glass from shattered windows
Be aware of damaged power lines
Exit any structure with chemical or gas odors
Photograph tornado damage to your property and possessions for insurance paperwork
Dalworth Restoration is a Dallas Fort Worth based, residential and commercial water damage restoration company. Operating since 1976, it has been involved in many tornado damage repair projects. The company provides full service content restoration following natural disasters and is prepared to mitigate water damage loss and structural damage to roofs, walls and foundations as a result of floods and tornado damage. Dalworth Restoration is a licensed, bonded and insured company, with BBB A+ rating. In addition, the company is a member of national restoration organizations, such as Disaster Kleenup International (DKI Commercial Services), Restoration Industry Association (RIA) and Institute of Inspection, Cleaning and Restoration Certification (IICRC).
For more information about tornado damage repair, flood cleanup, content restoration, mold remediation, basement waterproofing, and water damage restoration services, visit Dalworth Restoration or call 1 800 326 7913.
Press Contact
Shane Hobbs
Dalworth Restoration
1 800 326 7913