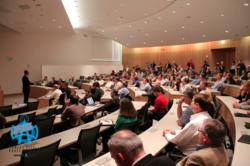 "I'd be willing to bet that you'll see some great startups in Kansas City because of this new connectivity"
Kansas City, Missouri (PRWEB) April 04, 2012
Michael Gelphman, founder of Kansas City IT Professionals (KCITP), recently interviewed Enrique Salem, CEO of Symantec regarding innovation opportunities for the Google Fiber project in Kansas City.
"It was an honor to bring a tremendous leader, entrepreneur and industry figure like Mr. Salem to Kansas City. Hearing his perspective on this game changing technology was very educational and beneficial for our community", said Gelphman.
When asked about the potential for innovation with Google Fiber, Salem stated: "I'd be willing to bet that you'll see some great startups in Kansas City because of this new connectivity". "It's going to enable, in my opinion, a whole new class of businesses and applications…..things we haven't even dreamed of", he added.
"We're seeing more change in technology than we've probably seen in the past 35 years….there's a lot of disruption, lots of opportunity to create breakthrough innovation", he said.
Some of the areas Salem sees for innovation through Kansas City Google Fiber involve a new set of security offerings, localized applications, and ways of organizing large amounts of data.
When asked about some of his ideas for the gigabit speed network, Salem keyed in on local services.
"With high speed connectivity the ability to create personalized services will be very, very different than what we've seen in the past," he said. "The more information that can be communicated between me and everyone around me, the better customization or personalization of those services", he added.
Although he identified the focus on custom results based on geographic proximity and interests can benefit users, Salem stressed the importance of security and privacy.
"It will create a whole new set of issues. At the end of the day there's going to have to be some control over what people know about me", he said.
He maintained that there should be an effort to maintain a balance of privacy, personal reputation, and security.
"There's lots of opportunities for companies to think about how they help protect people's privacy, or how they clean up or help someone with their reputation," he said.
Mr. Salem's interview was part of "InfoSec Night". The Kansas City technology event, which took place on March 21, also included a keynote by Salem and a $10,000 hacker contest. Over 250 IT executives, IT Professionals & entrepreneurs attended.
About:
Kansas City IT Professionals is a grassroots technology community of over 8,000+ members, ranging from top executive level management and below, and encompasses a vast array of technology related skillsets. KCITP helps drive the Kansas City technology community forward via events, education, social media and also donates IT services to local non profits.